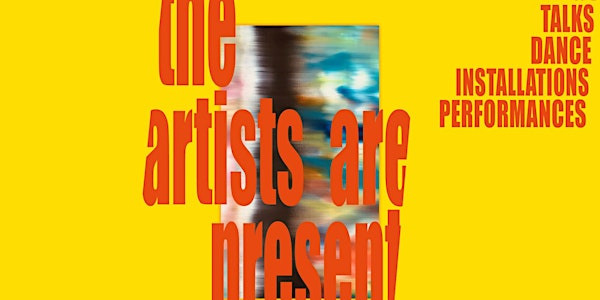 The Artists Are Present
The Artists Are Present is a new festival initiated by ICK Artist Space / Dans Amsterdam, facilitating dynamic artistic exchanges
When and where
Location
Studio-Theater De VLUGT Burgemeester de Vlugtlaan 125 1063 BJ Amsterdam Netherlands
Refund Policy
Contact the organiser to request a refund.
Eventbrite's fee is nonrefundable.
About this event
New work. Fresh faces. Powerful presence. Unexpected movements. 
For four days exciting artists take over Broedplaats de Vlugt for a dynamic gathering and festival: The Artists Are Present. The doors open for anyone who wants to see and experience what the present of dance has in store. An adventurous event, curated by ICK Artist Space, where new, sometimes still ragged work can be seen and experienced alongside internationally acclaimed performances, music and installations. The Artists Are Present opens up artistic processes and creates shared space and time for physical expression through the body: to move and be moved. Expect four evenings in which artists claim the stage and lead you through rituals, move you, interrogate their identity and transform the here and now.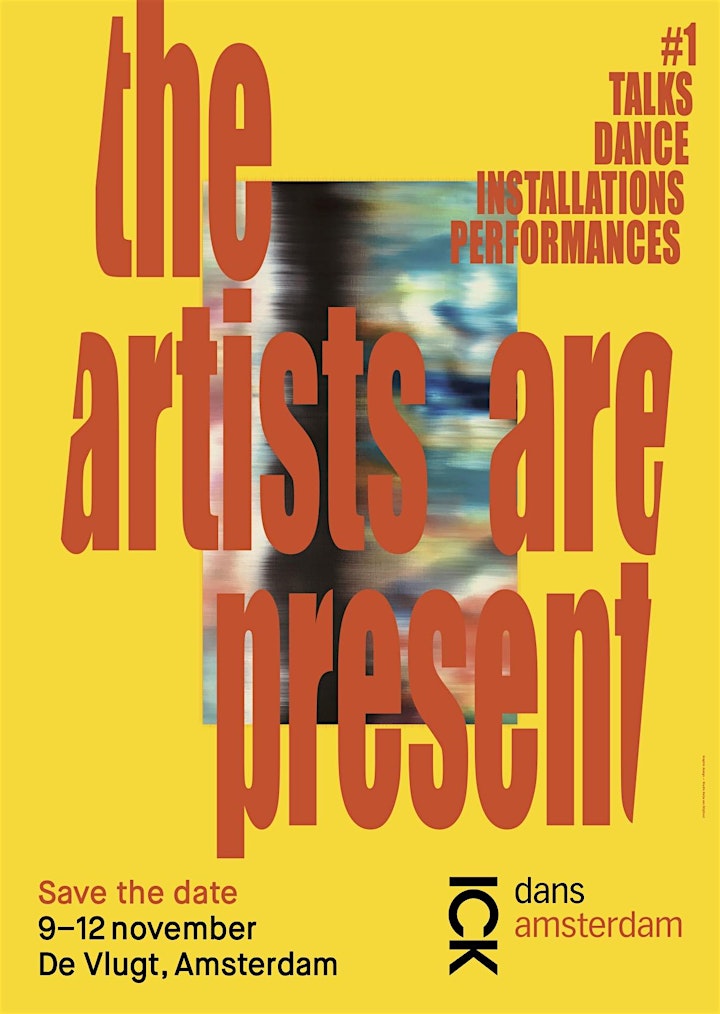 The Artists Are Present is a new initiative from ICK Artist Space to enhance the dance community, to celebrate the potential of the body and to create possibilities for sharing and exchange. This festival facilitates the chance for the artists to take ownership: to perform, be present, share, guide and exchange. Each festival day has a different theme or colour, combining artists who share certain contexts or interests. You are invited to move through several spaces in the building where you can discover works-in-progress, installations and performances. Amsterdam-based choreographers are programmed next to international Aerowaves Top20 selected performances. Every evening includes an artistic talk and ends with a DJ-set to get all bodies moving.
9 November Roshanak Morrowatian • Sister, Keren Rosenberg • Re-Surface, Reza Mirabi • Listening To Stone Beings
Key words: rituals, migration, transformation
10 November Andreas Hannes • skipping practice, TREVOGA • Минус, Paula Montecinos • (UN)BOUND, DJ Toby Paul
Key words: body and sound, delirium and transcendence, wonder
Note: please bring headphones. Performances contain heavy strobe light.
11 November Alexandre Fandard • Comme un Symbole, Smaïl Kanouté • Never21, Christian Guerematchi • FUNK, DJ Saloua
Key words: Black identity, shamanism, groove, aggression
12 November Sigrid Stigsdatter Mathiassen • Cold Hawaii, Charles Pas • Victory Boogie Woogie, DJ Toby Paul
Key words: identity, reality and imagination, embodied poetry
Wednesday 9 November, the opening night of the festival, is dedicated to rituals, migration, activism and transformation. We begin with Roshanak Morrowatian's installation performance Sister: a tribute to the power of survival of children and women in areas of political and social unrest. Here, melting becomes a symbol of the loss of innocence but also of the elusive power of transformation. This is followed by Reza Mirabi's musical-political performance Listening to Stone Beings. Together with cellist Sheng-Chiun Lin and percussionist Khaled Abdou, Reza creates a journey to get lost in memories of displacement as a 12-year-old boy in the Kurdish valley of Zaman. Both works, created by Iranian artists who came to the Netherlands as refugees years ago, now take on even greater significance because of the current situation in Iran. We close with Keren Rosenberg's shamanic solo Re-Surface: a physical and energetic exchange between Keren's moving body, the audience and the shamanistic scenography of Prem Scholte Albers.
Thursday 10 November puts the body and its relationship to music and sound at the forefront, complemented by transcendence, intoxication and wonder. Andreas Hannes will lead you through a participatory skipping workshop. Since his education, Andreas has been fascinated by skipping as a movement in which bodies always find a way to navigate through the concreteness of space and time, full of hope and fantasy. Andreas explores the notion of distances: relational, physical as well as metaphysical. After, the young and radical performance collective TREVOGA takes you through the dark but energetic world of trance and rave in their performance Минус (minus), an endless search for yourself and an embrace of otherness. Paula Montecinos shares her performance and sound installation UNBOUND: a plurality of spatiality and sound choreography.
Friday 11 November, is all about Black identity, groove and aggression. Two politically charged Aerowaves Top Twenty22 performances are on the programme. Alexandre Fandard's Comme un Symbole deals with the archetype of young people in deprived neighbourhoods, sometimes rascals, other times potential terrorists and eternal strangers. This theme recurs in Never21 by Smaïl Kanouté (solo version), in which Smaïl deploys his body as a graphic sculpture, an object of resilience, and as a memorial to young people who never turned 21 due to acts of aggression. Christian Guerematchi shows a work-in-progress presentation of his new performance FUNK (premiere 2023), a physical and musical performance that refers to the traditions of the diaspora, passed down from generation to generation, but also to the silenced pain for which we cannot yet find a place.
Saturday 12 November, the closing of the festival, refers to identity and the interplay between reality, fantasy and dream in two poetic performances. In the Aerowaves Top Twenty22 performance Cold Hawaii, Sigrid Stigdatter Mathiassen seeks a balance between hard reality and the soft worlds of her imagination. Through movement and sound, words, and song, Sigrid manoeuvres in a paradox between the desire to expose and cover herself, to be someone, to be no one, to be wild but also serene. Victory Boogie Woogie, Charles Pas's new performance (premiere December 2022), is a coming together of body and sound about man trying to survive in the city. In this 'exercise in being human', Charles enters into a dialogue with a fully sampled sound set by Willem Lenaerts.