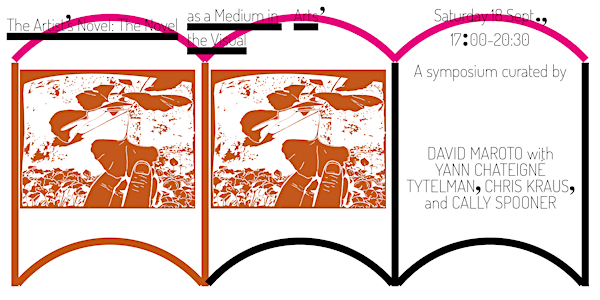 The Artist's Novel ⁠— Symposium
Symposium on the occasion of the public launch of David Maroto's The Artist's Novel: The Novel as a Medium in the Visual Arts
About this event
Why do artists write novels? What does the artist's novel do to the visual arts? How should such a novel be experienced? In recent years, there has been a proliferation of visual artists who create novels as part of their wider art projects. They do so in order to address artistic issues by means of novelistic devices, favouring a sort of art predicated on process and subjectivity, introducing notions such as fiction, narrative, and imagination. In this sense, it is possible to speak of a new medium in the visual arts; yet, very little is known about it.
Join us for an evening of discussion, performance, and sharing across disciplines during the launch of David Maroto's The Artist's Novel: The Novel as a Medium in the Visual Arts (Mousse Publishing, 2020). This two-volume book is the first to explore in depth the subject of the artist's novel. Part 1: A New Medium aims to critically elucidate the pressing questions posed by the emergence of a new artistic medium with a theoretical approach to a number of key case studies.
Part 2: The Fantasy of the Novel is a research project in the form of a novel, which examines the process of creation of an artist's novel. The protagonist is in the position of a detective who tries to understand the conditions under which an artist decides to write, and how such a thing is possible within an artistic setting.
Accompanying David in the discussion, writer and curator Yann Chateigné Tytelman will examine the different ways contemporary artists have employed the artist's novel, and its impact on the curatorial and institutional context in which it appears and with which it interacts.
Artist Cally Spooner, author of one the key case studies analysed in A New Medium, will carry out a reading performance from her new artist's novel in progress, Dead Time – which will serve as a springboard to discuss notions of fiction and performativity in relation to the artist's novel.
Writer and critic Chris Kraus will engage in conversation with David on the introduction of fictocritical writing practices in contemporary art, and the emergence of hybrid textual strategies where theory and practice, fiction and research, literature and the visual arts, merge.