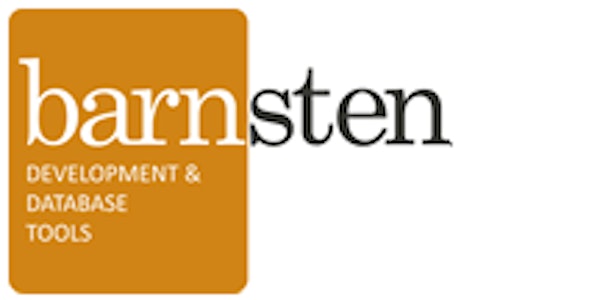 The BIG Delphi Conference 2015
When and where
Location
Holiday Inn Leiden 10 Haagse Schouwweg 2332 KG Leiden Netherlands
Description
Barnsten and Blaise Pascal Magazine are organizing: The BIG Delphi Conference 2015!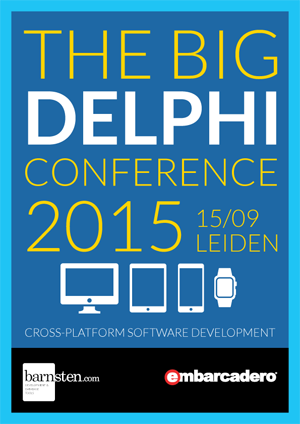 A day packed with technical sessions which will bring you up to speed with the latest Delphi technology, Windows 10 development, powerful components and an inspiring case study.
We start the day with the introduction of Windows 10 by Microsoft (Dutch spoken). The Windows 10 platform looks exciting and experts say it will have a very fast and huge adoption rate. A challenge for developers to get applications ready for this new platform. Senior Technical Evangelist Martin Tirion from Microsoft will present the new Windows version.
After this session you can join the Keynote presented by Pawel Glowacki from Embarcadero who will show you the new Delphi version, the Windows 10 possibilities, the new VCL updates, the latest Mobile and IoT updates and much more.
The agenda in the morning is the same for everyone. In the afternoon you can choose from parallel sessions presented by Delphi Experts, Component developers, customers and the PasCon.
This day is an unique opportunity to learn from the experts, component vendors and of course your colleague Delphi developers.
Program:
09:30-10:00 hrs Welcome and Registration
FROM 10:00-12:00 HRS - KEYNOTE
10:00-10:45 hrs - Windows 10 introduction by Microsoft (Dutch spoken)
10:45-12:15 hrs - Keynote Delphi by Pawel Glowacki (English spoken)
12:15-13:15 uur - Lunch in the restaurant
---
13:15-14:15 hrs - Parallel Session
You can choose from one of the following sessions
Bob Swart T&C: Wat is nieuw in DataSnap
Gnostice - Hands-On with the Gnostice Document Processing Framework (PDF) using XtremeDocumentStudio

TMS - Sophisticated cross-platform UI components for FireMonkey Framework
The Delphi Company - Delphi, Bluetooth Beacons en Raspberry Pi
Speaker: Bob Swart
(Dutch spoken)


In deze sessie laat Bob zien wat de mogelijkheden zijn van DataSnap (onderdeel van Delphi Enterprise) en vooral.. de laatste technieken die beschikbaar zijn in de meest recente Delphi versie.
Speaker: Girish Patil
(English spoken)

In this session you will learn how to implement a complete Travel Expense Accounting Application. You will learn more about implementing document viewing on desktop, web and mobile clients, digitizing scanned documents (with the built-in OCR engine), interactive mark-up and annotation of documents, printing and converting documents, template-based document generation including PDF/A & PDF/A-3B files, embedded documents (PDF, DOCX) inside reports and more. Using both VCL and FireMonkey components.
Speaker: Bruno Fierens
(Dutch spoken)

Deze sessie geeft u een dieper inzicht in drie krachtige componenten voor het FMX Framework.: een grid, een rich editor en een planning control. Krijg een inleiding over de architectuur, ontwerp- keuzes voor deze componenten en informatie over FMX component ontwikkeling dmv algemene tips, valkuilen, aandachts punten. Ook wordt van de de visuele- en non-visulele componenten de extra functionaliteit zoals export- en import voor de thesis componenten in verschillende bestands formaten of cloud-connectiviteit toe te voegen.
Speaker: Danny Wind (Dutch spoken)


Met de Raspberry Pi is het mogelijk elk soort Bluetooth Beacon te emuleren. In deze sessie laat Danny in detail zien hoe u een Raspberry Pi kunt configureren als een Bluetooth 4.0 Beacon. Vervolgens laat hij zien hoe u deze kunt aanspreken vanuit Delphi met TBeacon en de Bluetooth Manager.
---
14:15-14:30 hrs - Break
---
14:30-15:30 hrs - Parallel Session
You can choose from one of the following sessions

Embarcadero - Amazon Web Services

Programming with Delphi
FastReport - Build great reports
Bob Swart T&C - Fun on Android with Delphi
SmallToGo - 1. Case Study Wegbeheer Inspectie - 2. RAD met GIS
Speaker: Pawel Glowacki (English spoken)


In this demo oriented session Paweł is going
to show how to build single-source multi-device,
natively compiled Delphi apps for iOS, Android,
Windows and Mac that integrate with Amazon
Web Services using Cloud API framework.
Amazon Web Services (AWS) delivers secure,
scalable and inexpensive "cloud computing"
platform that combined with cross-platform
mobile and desktop rapid app Delphi development let you quickly build end-to-end solutions. During the session we are going to focus on using and extending Cloud API for accessing data storage, message queuing and notification services.
Speaker: Michael Philippenko (English spoken)


Four Fast ways to build a report.
We will see that FastReport is not only fast, but also gives many ways to achieve the goal.
And what is the main goal when using FastReport? Of course it's a Report!
This session overviews the following techniques:
1. Standard method — a usual way used by most customers;
2. Report wizard - an easy way to build a report;
3. Enhanced drag and drop - here we can create bands with files just by drag and drop datasets;
4. Code based report - you don't want to use the report designer? Then this method is for you.

Speaker: Bob Swart (Dutch spoken)

In deze sessie laat Bob u zien welke leuke dingen u kunt doen met Delphi en FireMonkey voor Android. De voorbeelden die hij gebruikt zijn uit de praktijk gegrepen en gecombineerd tot een vloeiend geheel.
Speaker : Danny van Hooren (Dutch spoken)
Sr. GIS ontwikkelaar en eigenaar van SmallToGo
Case Study: De wegbeheer inspectie applicatie wordt gebruikt door wegbeheerders om een schadebeeld van wegvakken te verkrijgen. Met deze informatie kan men snel wegrenovaties plannen. De applicatie is in Delphi ontwikkeld en maakt gebruik van het ontwikkelplatform van TatukGIS. Zo ziet u hoe software ook op een andere manier kan worden ingezet. Vervolgens ziet u dat niet alleen de XE platformen RAD zijn, maar ook het DK.VCL component van TatukGIS. U ziet mogelijk- heden als kaart, legenda, printen, webservices en het opvragen van objecten na selectie op de kaart.
---
15:30-15:45 hrs - Break
---
15:45-16:45 hrs - Parallel Session
You can choose from one of the following sessions
The Delphi Company:
Delphi Parallel Code voor responsive apps
Wintech - Build stunning FMX apps with TFrameStand

FastReport - FastReport in a Nutshell
Speaker: Danny Wind
(Dutch)
Een applicatie moet altijd direct reageren en alles zonder vertraging uitvoeren. Hiervoor is de nieuwe System.Threading bibliotheek gemaakt. Danny gaat aande slag met TTask, TFuture en TParallel.For. Ook toont hij TThreadPool en het gebruik van enkele SyncObjs zoals TThreadedQueue, TMonitor en de TInterLocked operators.
Speaker: AndreasMagni
Host: Paolo Rossi
(English)
One of the key aspects when building a modern mobile app is to have a nice-looking and modern User Interface.
During this session you will learn more about the TFrameStand component that will help you to achieve a high level of visual consistency of your app. At the same time you can add nice effects and transitions as well as easy-to-use and reusable building blocks for your UI.
Speaker: John Kuiper
(Dutch)
Host: Michael Philippenko from FastReport (English)

Tijdens deze mini cursus laat John Kuiper u zien hoe eenvoudig het is om een rapport op te maken en te connecten met een database. U leert het volgende: Maak een koppeling vanuit uw rapport naar de database en voeg foto's aan uw rapport toe - Maak geneste rapporten -- Exporteer dit alles naar PDF, TXT etc.
---
17:00 hrs - Closing in the Rotterdam Room
Note: sessions can be changed due to unforeseen circumstances
Tickets are non-refundable. Tickets may be transferred to a colleague or third person.
The ticket gives you access to the complete day including coffee/tea, snacks and a lunch.