Description
How can you give your life meaning? How do you transcend superficial and materialistic tendencies and how do you find your own purpose, your own direction?
Man is in the midst of a massive technological acceleration. A tsunami of exponentially developing technology is heading our way. In practice this means we're heading towards a world of plenty, but also towards a world of mass unemployment. This means that giving our lives meaning and self-actualisation are becoming ever more important for individuals, leaders and organisations alike.
Joel aan 't Goor will point out the mega trends in the field of technology and in giving meaning to our lives and he will arrive at questions such as: Who are you? How do you truly want to spend your time on this earth? Expect a relaxed setting and clear insights. Both with regard to the world and yourself. Drinks, snacks and music are included.
Date: Tuesday 6th of February, 19:00 – 22:30
Location: New York
Lecturer: Joel aan 't Goor (CEO Business Leaders)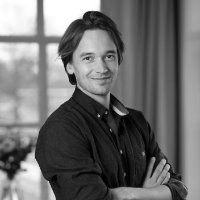 About Joel aan 't Goor:
Business administrator and psychologist Joel aan 't Goor is the founder of Business Leaders. An international cross-sector network of CEOs of large and medium-sized enterprises. His strength lies in a combination of a deep understanding of people, entrepreneurship and business.