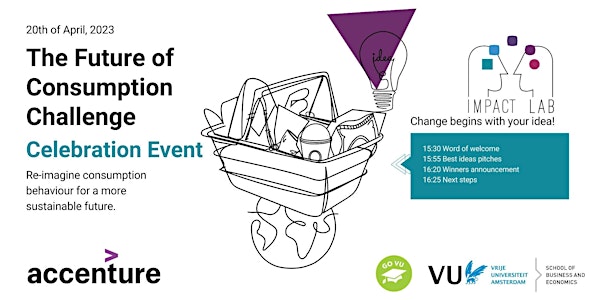 The Future of Consumption Challenge: Live Celebration Event (Free)
What changes do you think are needed to make consumption more sustainable and responsible? Get ready to reimagine the future of consumption!
By The Future of Consumption Challenge
Date and time
Thu, 20 Apr 2023 15:30 - 16:30 CEST
Location
Vrije Universiteit Amsterdam 1105 De Boelelaan HG-0C29 Aurora 1081 HV Amsterdam Netherlands
About this event
Live Celebration event (free) | 20 April 2023 | 15.30 – 16.30 | VU Campus HG-0C29 Aurora
Get ready to look back on what we have achieved together during the Future of Consumption Challenge, celebrate our collective impact, and crown our winners!
For more information about the Future of Consumption Challenge, read below.
--------------------------------------------------------------------------------------------------------------------------
Reimagine the future of consumption!
During an 8-week period, you get the opportunity to build your skills, showcase your ideas, and increase your network. Collaborate with hundreds of students, the VU's Impact Lab and Green Office, and special guest – the leading global services company – Accenture. This crowdsourcing challenge is your chance to make social and environmental impact in your own unique way.
The challenge is to think of ways to change peoples' current consumer attitudes and behaviors from an interdisciplinary perspective. Can you think of ways to encourage more sustainable and responsible consumption? Do you want to be part of something bigger? Get your free ticket for the kick-off and get to know the core contents and expectations of the challenge!
What do we expect from you?
Join us during the events: March 7th (Kick-Off), March 17th (Ideation Session), April 20th (Celebration).
Develop your ideas and engage with other students on the crowdsourcing platform: 1-2 hours per week on average for 8 weeks. Either alone or with your team.
Please note that only VU students can sign up for the challenge.
What can you expect from us?
A chance to engage and participate in discussions with students and external professionals: you will widen your community and connect with like-minded students from other disciplines. You will build your ideation, storytelling, and collaboration skills. And you will receive support and feedback from VU and Accenture professionals to develop your ideas on the crowdsourcing platform.
A chance to receive recognition for ingenuous ideas: winning ideas will get a platform within Accenture NL and will be shared among the Accenture network. Challenge winners will get a certificate and a career opportunity lunch with Accenture professionals. Participating and winning students will be referred to in internal and external communications by Accenture and VU.
A chance to be rewarded for participation: this challenge is not just about the destination, it is about the journey! You will be rewarded for your growth and involvement throughout the process, your development of ideas, and your interaction with other students and professionals.
Challenge description
In today's world, we urgently need to re-think and re-shape how we relate to the environment. To live a decent life, humans rely on necessities such as food, clothing, and shelter and luxurious goods such as cars, vacations, hobbies, and tools.
However, our excessive consumption is a major contributor to environmental degradation. We often own "too much" of what is deemed essential. We consume products that are resource intensive. We engage in unethical consumption whenever the accessibility or habit come into play. And finally, how we use what we own is often equally problematic.
By making the future of consumption sustainable, we aim to empower citizens to adopt attitudes and behaviors towards consuming that are significantly different from our attitudes today. By altering our consumer behavior, we signal to the producing parties that consumer patterns have changed and encourage producers to supply these new demands. We are also aiming to gather insights that will inform policymakers and governing bodies.
You can use the following questions to get inspired and come up with your ideas
What would encourage you (as a consumer) to adopt more sustainable behaviors?
How might shared ownership of items (i.e., clothes, tools, etc.) promote more responsible consumption? And what is required to make this concept of sharing attractive and scalable?
How can we align our approach to consumption of food with the ethical standard we uphold in our daily lives?
How can policymakers stimulate responsible consumption?
Who is responsible for the external costs of consumption, and what should we do about it?
How does government lobby and subsidies affect the unethical choices to be much easier and what needs to be done to aid a transition towards a more balanced system?
Meet your partners
Accenture is a leading global professional services company, providing a broad range of services and solutions in strategy, consulting, digital, technology, and operations. Their purpose is to deliver on the promise of technology and human ingenuity. They are committed to adding value in 360 degrees. This includes experience, sustainability, talent, diversity & inclusion, client, and financial value. They are seeing a world awakened to an incredible opportunity to reimagine and rebuild responsibly and sustainably. They believe that this will transform our global economy into one that works for the benefit of all.
VU's Impact Lab is an innovative platform designed to enable the VU community — students, teachers and staff — to co-create solutions for complex challenges. Through the platform, members can share their ideas, leave comments, and vote on proposed solutions. The platform facilitates collaboration to produce a viable, coherent vision for the future.
VU's Green Office is a student-run organization dedicated to making the university more sustainable. Its mission is to help reduce the university's environmental footprint by promoting green initiatives and encouraging sustainable behavior. The Green Office VU will play a pivotal role in helping Vrije Universiteit to secure a solid leading position as the most sustainable University in The Netherlands by 2025.
Contact
You can reach us via futureofconsumptionchallenge@gmail.com
Agenda
3:30 PM - 3:55 PM
Celebrate impact
3:55 PM - 4:20 PM
Best ideas pitches
4:20 PM - 4:25 PM
Winners announcement
4:25 PM - 4:30 PM
Next steps