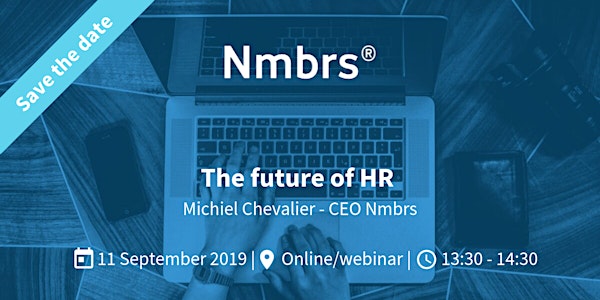 The future of HR | Webinar from Nmbrs
When and where
Location
Online Netherlands
Description
At Nmbrs we believe you should treat your Employees as your Customers - they deserve the best possible HR service. For this you need tooling. Awesome tooling.
We develop an international Payroll/HR platform where we deliver optimal HR processes and connect all key-users so that they can serve their employees better.
This webinar will cover why this is such a vital part for Nmbrs and why we daily work to improve our product to be able to further let our customers serve their employees better.
Nmbrs CEO Michiel Chevalier will tell his HR-dream and how he sees the future in HRM-system and processes regarding optimal HR-processes and the vital part of Onboarding new employees.
11 september 2019 | 13.30-14.30 | For HR-managers and HR-staff
(The webinar is free of charge | Link to the webinar will be sent out after your registration)