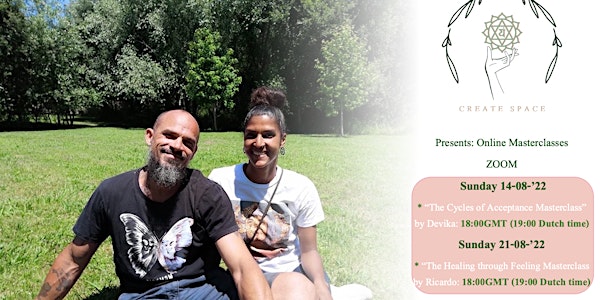 The Healing Through Feeling Masterclass
A practical Masterclass, a journey inwards. There is no healing without feeling.
About this event
Calling all Generational Curse Breakers! 
Are you stuck in a habit of self judgement and self sabotage?
Are you struggling to practice what you preach?
We are looking for:
Generational curse breakers who want to take "know thyself" to the level where you can be in full acceptance of yourself in light and dark, where you can help yourself and others in unconditional love.
We're giving away TWO(!!) FREE masterclasses called "The Cycles of Acceptance Masterclass" by Devika and "The Healing through Feeling Masterclass" by Ricardo. 
It is our mission to serve people by guiding them into better awareness of their minds, bodies and spirits.
Devika's masterclass takes place on Sunday 14-08-'22 and starts at 18:00 GMT (19:00 Dutch time) and takes between 60-90 minutes.
Ricardo's masterclass will be on Sunday 21-08-'22 at 18:00GMT (19:00 Dutch time) and takes between 60-90 minutes.
We highly recommend taking part in both masterclasses, as they compliment each other nicely!
There will be lots of interaction happening so make sure you're ready with an open attitude and a pen and paper!
In Devika's masterclass you will learn:
- All about your Inner Seasons and how your own unique cycle functions
- You will see the pro's of each season and how to use them for productivity and self acceptance
- You will learn what your Inner Seasons feel like within
In Ricardo's masterclass you will learn:
- To be in more alignment with yourself
- To feel more grounded
- You will create more awareness towards your own feelings
Are you interested or do you know someone who is?
Please register now!
If you are not able to make it; register anyway and let us know. 
We can send you the recording and any additional information afterwards. 
We'd love to see you there!