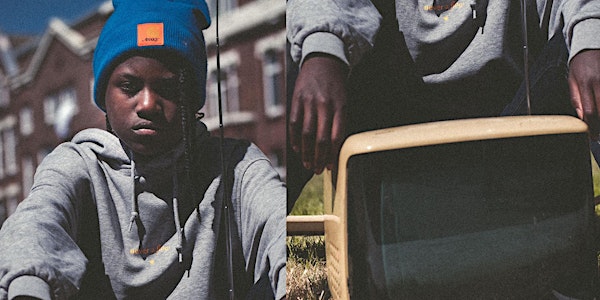 The Hoodie On-site / Off-site
During the closing event of The Hoodie exhibition, the focus is on the collaboration between Het Nieuwe Instituut and Concrete Blossom.
When and where
Location
Het Nieuwe Instituut Museumpark 25 3015 CB Rotterdam Netherlands
About this event
During the closing event of The Hoodie exhibition, the focus is on the collaboration between Het Nieuwe Instituut and Concrete Blossom. A panel discussion explores how the collaboration came about, the forms it has taken and how the institute works with existing and new public groups. Finally, it looks at the basis for future cooperations.
Het Nieuwe Instituut and Lou Stoppard, the curator of The Hoodie, realised that with this project they were engaging in a complex play of forces. In close collaboration with Concrete Blossom, it was therefore decided to detach the hoodie as little as possible from its original network, and to emphasise that the stories it tells continue to develop every day in all kinds of locations in the city. For this reason,the exhibition and other programming within the institute actually formed the off-site programme.
In the context of The Hoodie, on-site means the places and spaces where the themes surrounding the hoodie are lived every day. These locations are to be found in the various neighbourhoods of Rotterdam, exactly where the grassroots initiatives of culture makers and consumers find each other outside the traditional infrastructure of museums, art venues, galleries and project spaces. This on-site programme was developed by and with Concrete Blossom as part of a long-term partnership.
The exhibition The Hoodie has set many things in motion within the institute in recent months, and the collaboration with Concrete Blossom has placed extra emphasis on the importance of representing, embedding in and collaborating with the city of Rotterdam. The legacy of that new (or renewed) realisation is therefore a layered one.
Panel discussion and pop-up exhibition
In an intimate setting in Het Nieuwe Café, Flora van Gaalen, head of programming at the institute, and Malique Mohamud, founder and artistic director of Concrete Blossom, will discuss the topic with the guidance of moderator Hodan Warsame. Together, they will exchange ideas about the disruptive methodologies for cultural institutions developed by Concrete Blossom, with The Hoodie as a case study.
In addition, a pop-up exhibition in the auditorium of Het Nieuwe Instituut will feature the audiovisual material that was produced especially for The Hoodie. There will be screenings of videos by YouthDem and an interview with the The Hoodie curator Lou Stoppard.
The programme will open with a music video and DJ set from DJ Ray Escobar.
Programme
3pm - 4pm: DJ set by Ray Escobar
4pm - 5.30pm: Panel discussion with Flora van Gaalen, Malique Mohamud and Hodan Warsame
5.30pm - 6.00pm: DJ set by Ray Escobar
The program can be attended under the arcade of Het Nieuwe Instituut.