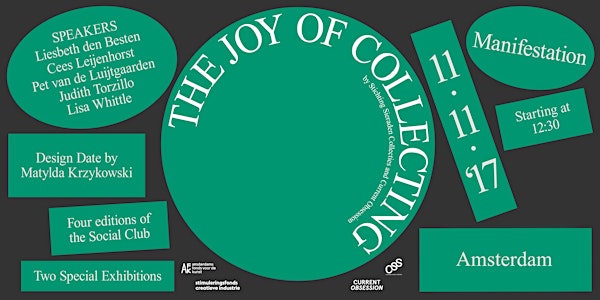 The Joy of Collecting
When and where
Location
Tolhuis Buiksloterweg 7 1031 CC Amsterdam Netherlands
Description
The Joy of Collecting is a manifestation by Stichting Sieraden Collecties and Current Obsession filled with interesting lectures, Design Dates and Social Club sessions. During this afternoon we will look at the subject of collecting from a multidisciplinairy point of view surrounded by two exhibitions on collecting.
We welcome you at the Tolhuis with coffee and tea from 12:30. The programme will start at 13:00 and will finish around 19:00 with some drinks and music by DJ Rotibabi. If we leave you craving for more, an optional dinner will be served for an extra fee of €30 (excl. drinks).
PROGRAMME

Cees Leijenhorst - The Art of Collecting: the Prince, the Citizen & the Fool
Design Date by Matylda Krzykowski and Alice Wong - #1 Physical Collecting
Liesbeth den Besten - The Life of Collections
Judith Torzillo - Young Collectors

- Coffee / tea break -

Lisa Whittle - The Hows and Whats of Digital Archives
Design Date - #2 Digital Collecting
Pet van de Luijtgaarden - Collections of Collections: how much can you collect?

Social Club Sessions
How can a virtual museum look like? with Lisa Whittle
Tell me about your collection with Liesbeth den Besten
Young collectors with Judith Torzillo
Making exhibitions with Ruudt Peters



Organised by Stichting Sieraden Collecties and Current Obsession
This project is supported by the AFK (Amsterdam Fund for the Arts) and Stimuleringsfonds Creatieve Industrie.
Part of OBSESSED! Jewellery in The Netherlands Festival
http://www.current-obsession.com/obsessed/the-joy-of-collecting/