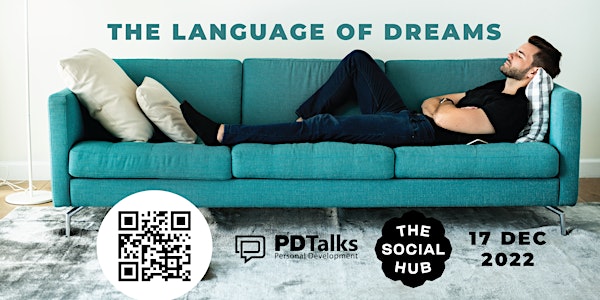 The Language of Dreams
Join the inspirational event organised by the Personal Development Talks at TSH Amsterdam City on a Saturday afternoon, 17.12.2022 at 15:00.
When and where
Location
TSH Amsterdam City I The Social Hub I The Teal Deal Room 129 Wibautstraat The Teal Deal Room 1091 GL Amsterdam Netherlands
Refund Policy
Contact the organiser to request a refund.
Eventbrite's fee is nonrefundable.
About this event
Understanding the language your unconscious mind speaks as you sleep
Are you:
• Curious about why you dream?
• Wondering what wisdom your dreams have to teach you?
• Wondering how you can work with your dreams on a nightly basis?
Summary:
Man has been interpreting dreams for millennia. A practice taken seriously by the druids, shamans from different indigenous traditions, in the biblical texts, and by Sufi orders. Modern psychology has been interested in dreams since Sigmund Freud wrote, "On Dreams." Carl Jung and archetypal contemporaries have continued this work into understanding the hidden language of our unconscious mind and the wisdom that it brings.
This session will focus on understanding our dreams from a personal level, how they connect us all, and the healing potential that their wisdom brings. During the talk we will be incorporating basic dream interpretation practices with one and other. Learning basic dream symbols and their meanings and how to record our dreams and look for the patterned wisdom that they hold for us.
Key takeaways:
• How to record your dreams.
• How to utilize the ancient wisdom and language of dreams to navigate our modern age.
• How to reenter a dream to better understand the message of the dream.
Would you like to:
• discover new ways to work with and understand you dreams?
• find inspiration from the wisdom of your unconscious about how to move forward in your life.
• meet new people and exchange ideas?
What you can expect:
• We provide a safe, non-judgmental environment where all opinions can be openly expressed
and are equally respected.
• No-taboo discussions on difficult and sensitive topics.
• A chance to meet new, interesting people and connect with like-minded people. We're in this
together!
• A boost of inspiration for positive action!
SCHEDULE
· 3:00 pm – doors open, please arrive on time to enjoy some networking before the event
· 3:15 pm – 3:30 pm – PD Talks intro
· 3:30 pm – 4:15 pm – intro to dream history and theory. Practical example of interpreting a dream by Daniel Frysh with a volunteer
· 4:15 pm – 4:30 pm – break
· 4:30 pm – 5:15 pm – breakout groups of practical interpreting our own and other's dreams as well as a Q&A session
· 5:15 pm – 5:30 pm – round-up & sneak preview of future PD Talks events
· 5:30 pm onwards – free networking drinks and snacks at The Commons restaurant located inside the TSH building
LOCATION
The Social Hub City
The Teal Deal Room
Wibautstraat 129
1091 GL Amsterdam
PLEASE BRING:
A dream that you might want to work with. Please do not choose anything that brings you trauma. While this will be discussed this is not the forum for doing deep psychological work. Also please bring an open mind, friendly attitude, curiosity and positive energy. Leave your judgement at home ;-)
TICKETS
Early Bird: € 12.50
Regular Price: € 17.50
Included: workshop, networking drinks and snacks after the event, good vibes.
If you are a TSH resident or work at the Collab, you may be entitled to a free ticket.
PD Talks is a non-profit organisation. All proceeds go to charity.
Keywords:
#dreams #wisdom #dreaminterpretation #completeconnectcoaching #deepwork #sleep #psychological #symbols #archetype #ancientknowledge #pdtalks #personaldevelopment #personaldevelopmenttalks #personalgrowth #psychology #coaching #student #studentevents #thesocialhub #expat #expatevents #workshop