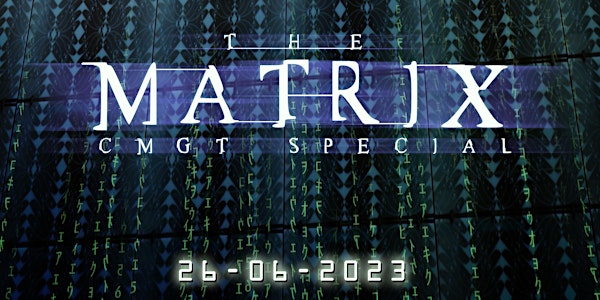 The Matrix - The CMGT Special
This year we dive into the world of The Matrix! We start with an intro, then the film and an afterparty! Dresscode: Matrix style!
Date and time
Monday, June 26 · 2:30 - 7:30pm CEST
Location
Kinepolis Enschede 60 Colosseum 7521 PT Enschede Netherlands
About this event
Greetings, fellow minds,
We extend to you an invitation to a special viewing of the movie 'The Matrix,' where you will be given a choice, the choice between taking the red pill or taking the blue pill. The Matrix is a world where reality is not what it seems, and the veil of illusion can only be lifted by the brave and curious.
Join us on 26 June 2023 at 14:30 hours at Kinepolis Enschede. We will delve deeper into The Matrix and engage in discussions with other seekers of truth. Dress in your best Matrix-inspired attire and prepare to embark on a journey of self-discovery and enlightenment.
Remember, the choice is yours. Will you take the blue pill and remain in the comfortable illusion of your current reality, or will you take the red pill, awaken to the harsh truth of the world around you, and push the boundaries of reality? The decision is yours to make...
Please come in Matrix-style clothing type, so you blend in to your new reality in an even better fashion!