Sales Have Ended
Registrations are closed
Thank you for your interest and see you next year!
Sales Have Ended
Registrations are closed
Thank you for your interest and see you next year!
As the event is close to full capacity, your registration will need to be confirmed by a representative of Alternatives4Children.
About this event
Alternatives4Children, together with Theta Capital Management, would like to invite CIOs of family offices and wealth managers to this year's Legends4Legends charity conference. The event will be hosted in the EYE Film Museum in Amsterdam on Thursday, September 23rd.
Legends4Legends is the leading annual alternatives investor conference in Europe with an in-depth focus on the investment topics of our time. Legends4Legends aims to raise money for Alternatives4Children.
About Legends4Legends 2021
Legends4Legends is a content focused event within a unique atmosphere that brings together the Dutch investment community and world-leading investment managers for active discussion and exploration of today's main investment topics.
The theme for this year's event will be: ''The Next Generation of Finance'' and will fully center around the topic of blockchain technology and its impact on the future of finance and beyond. You will hear from the leading Blockchain VCs & entrepreneurs who explore how blockchain technology could disrupt traditional finance and investing and what the future will bring for banks and other legacy businesses.
Agenda
8.45 - Registration opens - Coffee
9.30 - Theta Capital: Theta Blockchain Ventures update, information on Fund 2 launch, Q&A
10.40 - Coffee Break
11.00 - Dan Morehead – 'Key Developments in Blockchain Technology'
12.00 - Andrew Steinwold – 'The Cambrian Explosion of NFTs. What will the Metaverse Look like?'
12.45 - Lunch Break
13.45 - Lasse Clausen – 'Token Networks as a Structural Innovation'
14.45 - Guest Speaker (to be announced)
15.15 - Coffee Break
15.30 - Tyler Spalding – 'Payment Systems & Blockchains. The Future of Payments.'
16.30 - Roundtable with all speakers –'Open round Q&A with today's speakers'
17.30 - Networking drinks
Confirmed Speakers
• Dan Morehead – Founder & Co-CIO – Pantera Capital – leading US venture firm
• Lasse Clausen – Founder & CIO - 1KX – leading European venture firm
• Tyler Spalding – Founder & CEO – Flexa – prominent blockchain technology project
• Andrew Steinwold – Founder & CIO – Sfermion – NFT Focussed venture firm
We expect some further high-profile speakers to be confirmed in the next few weeks.
Legends4Legends is a full day event. We expect the event will broaden your knowledge and provide deep insights, as well as provide a great opportunity to network with like-minded investors and friends.
Donation
If you are an asset allocator we ask for a donation of €100, for business development, marketing and service providers we ask for a donation of €500.
You can make this donation directly when reserving your ticket. The donation goes straight to the www.alternatives4children.com charity.
If you are interested in attending, please let us know ASAP and we look forward to seeing you on the 23rd September!
Any questions email us: nl@alternatives4children.com or dekloe@thetacapital.com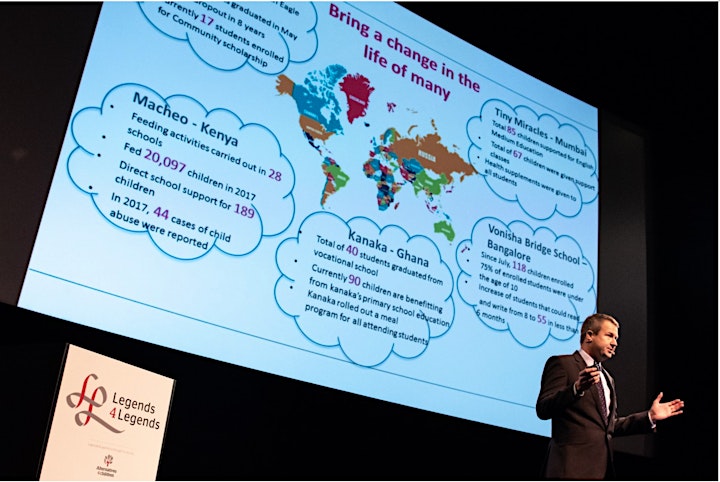 Organizer of The Next Generation of Finance
Alternatives4Children (A4C) is an independent charitable foundation established in 2011 in the Netherlands with the aim to involve professionals from the (Alternative) Financial industry and the conviction that, together, we can make a difference for children in need. Since 2020 we also have a UK registered Chapter and are open to expand in other countries. Our primary focus is on SDG 4: ensure inclusive and equitable quality education and promote lifelong learning opportunities for all. We aim to make a difference for children of all age by supporting small scale projects with high impact potential.
Theta Capital Management is the largest and oldest hedge fund specialist in the Netherlands and is a world-leading specialist on the topic of investing in blockchain technology.