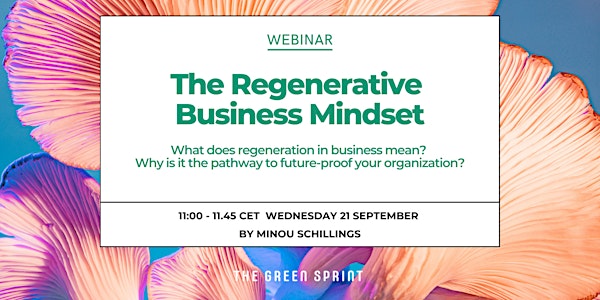 The Regenerative Business Mindset
What's regeneration? And why is it the pathway to future-fit business?
Refund Policy
Contact the organiser to request a refund.
Eventbrite's fee is nonrefundable.
About this event
"It's not the strongest species that survive, nor the most intelligent, but the ones most able to adapt to change." - Charles Darwin
It's time to leave the business-as-usual mindset behind, adapt and embrace the regenerative principles. Only businesses that think long-term and holistically will have a chance of survival in the 21st century.
On Wednesday the 21st of September at 11:00 CET we will explore the pathways towards a regenerative future. We will dive into:
For anyone who:
✔️ wants to broaden their understanding of regeneration
✔️ wants to introduce regeneration to others within their business
✔️ wants to explore and embrace the regenerative principles
✔️ wants to discover the potential of regenerative business models
We will explore:
✔️ What regeneration means for business
✔️ Business as usual VS the regenerative mindset
✔️ Regenerative business frontrunners
This webinar will offer an opportunity to expand your understanding of regeneration in business, how embracing the regenerative mindset differs from the business-as-usual mindset and what we can learn from frontrunners in the regenerative space who are showing various pathways to a regenerative and just future.
Be Curious, Be compassionate dare to Change!