Event Information
Refund policy
Contact the organizer to request a refund.
Eventbrite's fee is nonrefundable.
An interactive ONLINE workshop designed to help entrepreneurs navigate the world of personal branding.
About this event
THE SECRETS TO BUILDING A POWERFUL PERSONAL BRAND
We transform our off-line interactive workshop into a UNIQUE EVENT! Due to the COVID-19 restrictions and thinking about safety and health of all participants, we are creating an event that will still take place at NAN with all the speakers present, as well as our lucky winner chosen from the audience. All of the attendees will stay ONLINE in the comfort and safety of their place. It means WE CAN GO GLOBAL!
An interactive online workshop designed to help entrepreneurs navigate the world of personal branding and discover the confidence to put themselves out there.
With a personal brand stylist, a branding strategist, a professional photographer and a makeup & hair artist, it will be an afternoon to invest in your business and give it the attention it needs in 2020.
WHO THIS IS FOR:
* This workshop is designed for business owners who want to define their personal brand, gain visibility, build confidence and clearly communicate their value to their clients.
* Entrepreneurs who are ready to step up their brand and attract more high-paying clients.
* Leaders who want to create a brand that matches the depths of who they truly are.
* Idea makers who want professional, magazine-quality images showcasing their unique and authentic self.
* Individuals who want to create a smashing new personal brand image that builds trust and attracts exciting business opportunities.
WHAT YOU'LL GET:
* An insightful online session with four speakers and a practical part in an informal atmosphere at concept store NAN. Exclusive materials/guides from our speakers to continue working on your brand after the workshop.
* A chance to become our workshop model who will play an essential role in our practical part. We will randomly pick a name among those who purchased tickets. The winner will be announced on www.profilestudio.nl/events, our Instagram, Facebook, and LinkedIn pages on the 9th of October.
First, we will analyze the winner's brand, identify what is the biggest challenge with her image and give personal style advice, treat her to professional makeup and hair styling, and photograph her so her images will showcase her unique and authentic self.
The rest of the participants are getting an exclusive opportunity to be behind the scenes during this entire process and actively participate in this process of transformation while staying comfortable and safe at their place and watching our workshop streamed online.
* A meaningful networking time in breakout rooms with one of the speakers present.
* 30-minute 1-on-1 complementary online session with your expert of choice (Yustine, Nataliya, Olga or Tammy), to be booked directly after the 23rd of October.
* A presentation of NAN's collection and store tour guided by Ellen Wynia, the owner of NAN with special offers exclusively for you.
* A Virtual Goodie Bag with useful offers from the speakers, NAN boutique and other relevant companies.
* A presentation of tasty bites from Global Seasons - your plant-based catering and box lunch service. www.globalseasonsnl.com
THE SPEAKERS:
We have carefully chosen an interesting mix of successful business women who will teach you secrets of building a personal brand with style and substance. You will not just learn about the important elements that go into building an outstanding personal brand but also see in practice how it is done during our interactive sessions. Throughout the course of this afternoon, you will hear from:
Yustine Alvares is a co-founder of Dark Blue International and creates successful marketing, (personal) branding and media strategies. Suitable in any stage that you are in. With her special interest in Personal Branding, Yustine helps you to create a "radically effective" strategy that fits YOU. She believes that branding yourself is one of the most crucial factors while doing business to build trust and awareness. www.darkblue.international
Tammy Parrish, owner of the Clothing Compass, helps ambitious women look and feel even better in less time so that they can focus on their core business. Tammy is convinced that a businesswoman is the calling card for her company, so appearance matters. But looking good goes much deeper than that. When you look good, you feel good -- strong, confident, and empowered. Tammy helps you to define your own, flattering style; stop shopping in stress mode; and get dressed quickly and confidently. www.clothingcompass.com
Olga Petrenko, a professional makeup and hair artist, stays on top of the latest trends and styles for brand photography. Want to create a look that best represents you and your style? Working with a professional makeup artist like Olga ensures that you will be at your best when it matters most. Specializing in on-camera makeup & hair, she will lead you in the right style direction when it comes to your on-camera or stage appearance. Whether you are creating video content for your business or new website photos, having professional makeup & hair styling is essential in completing the look for your personal branding and marketing materials. www.olga-petrenko.com
Nataliya Volosovych, a professional photographer and a founder of Profile Studio - Building Your Professional Profile and Personal Brand Step by Step. She specializes in personal branding photography, headshots, corporate and event photography. Nataliya takes your brand message, your mission, your colors and your unique personality and brings it all together in an epic photo shoot that you will love. She also has some super powers: Nataliya cures Camera Avoidance Syndrome during your photo session. www.profilestudio.nl
WHEN AND WHERE:
October 23rd, 2020
ONLINE LIVE STREAMING from Concept Store NAN
Bergse Dorpsstraat 41A, 3054 GA Rotterdam
NAN's team believes in the power of women. The business woman is tough, sexy and ambitious. They translate these characteristics into their business and elegant clothing. This is reflected in NAN's timeless designs from a business ladies' suit to an elegant black dress. Every power woman is unique. NAN is happy to help you choose the right clothing to enhance your confident look. www.nan.nl
PROGRAM:
14.00 – all the speakers and our lucky winner gather at NAN and our attendees join us online.
14.05 – introductions from our speakers and our host Ellen Wynia, the owner of NAN.
14.10 - Yustine Alvares (her insights regarding branding strategy and analysis of our winner's brand).
14.30 - a tour of NAN store and quick review of the latest collection by Ellen Wynia.
14.40 – Tammy Parrish (her tips and tricks on matching your visual appearance to your brand, and personal style advice for our winner).
15.00 – Ellen Wynia's wardrobe suggestions from her collection for our winner. A beautiful clothing set will be used in the photo shoot that follows.
15.10 – Nataliya Volosovych and Olga Petrenko (their insights and advice on photo shoot, makeup and hair styling for personal branding shoots, video sessions and public appearances, as well as actual application of makeup and styling of our winner's hair).
15.40 – photo shoot and wrapping up.
16.10 – 17.30 – Networking time in online breakout rooms with one of the speakers facilitating the discussion.
Video coverage is provided by Gulce Onganer
This informal and immersive workshop that's all about real, actionable knowledge and implementation is created exclusively for just 20 participants.
SECURE YOUR SEAT NOW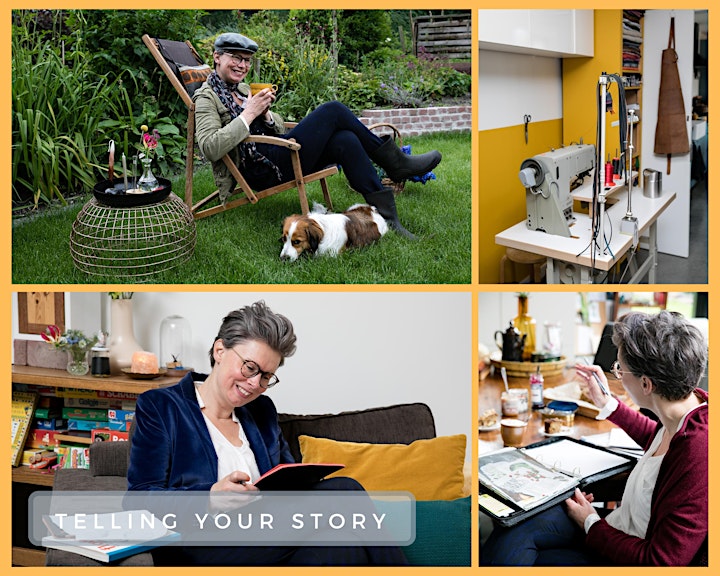 Date and time
Location
Refund policy
Contact the organizer to request a refund.
Eventbrite's fee is nonrefundable.