Description
Mark your calendars! Thousand Hills Conference 2017 will happen on January 26 untill January 28, 2017! The speakers will be: Rick Bezet, Lead Pastor of New Life Church in Arkansas and Jimmy Rollins, Lead Pastor i5 Church and Michael Smith from the ARC and Sebastiaan van Wessem, Leadpastor of Thousand Hills Church!
We will worship with our own Thousand Hills Worship as well as with Lifepoint Worship!
Get your tickets now!
Make sure you get your Early Bird tickets for your kids and teens too!
...............................................................................................................
Zet het in je agenda! Thousand Hills Conference 2017 zal plaats vinden op 26 januari t/m 28 januari 2017!
Sprekers zullen zijn: Rick Bezet, Lead Pastor van de New Life Church in Arkansas en Jimmy Rollins, Lead Pastor i5 Church en Michael Smith van ARC en Sebastiaan van Wessem, voorganger van Thousand Hills Church!
We gaan aanbidden met Thousand Hills Worship en ook met Lifepoint Worship!
Koop nu je tickets!
Zorg dat je ook meteen de Early Bird tickets voor je kinderen koopt!
________________________________________________________________
FAQ / Veelgestelde vragen:
Hoe kan ik een vraag over de conferentie stellen? / How can I ask a specific questions about the conference?
- Stuur een e-mail met jouw specifieke vraag naar: info@thousandhills.nl
- Send an e-mail with your specific question to: info@thousandhills.nl
Hoe ziet het conferentie schema eruit? / What will the conference schedule look like?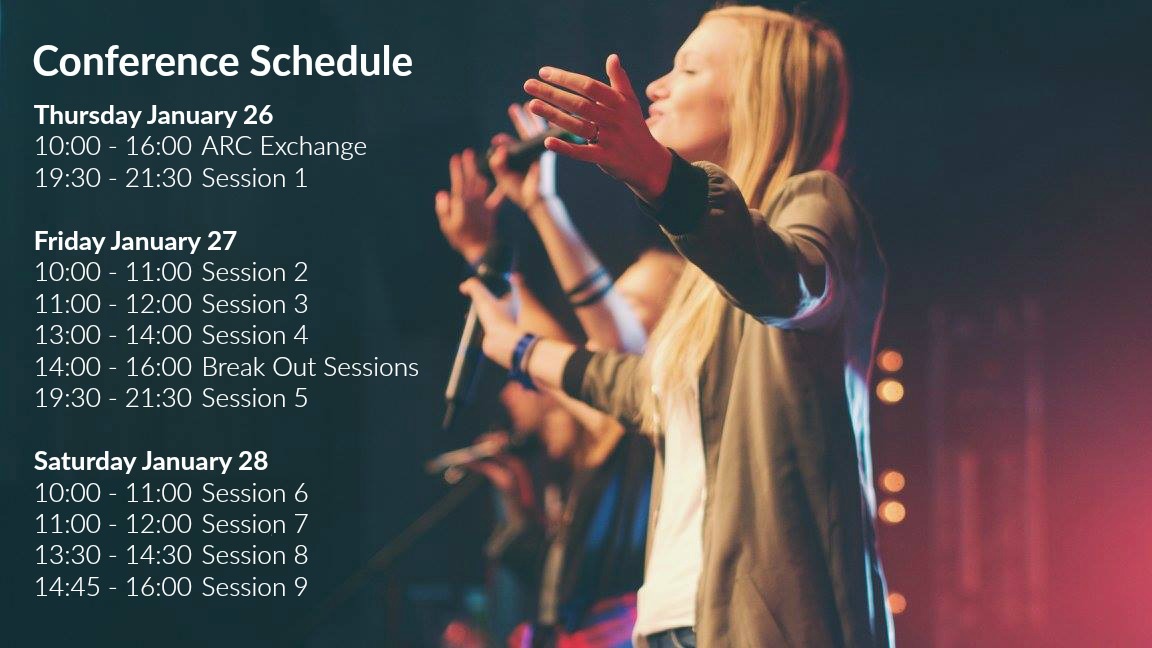 Is er een kinderopvang? / Will there be daycare for my kids?
- Ja! Op zaterdag is er een geweldig kinderfeest voor alle kinderen van 6 t/m 12 jaar, dit willen ze niet missen!
Er zal overdag een kinderopvang zijn voor alle kinderen van 0-5 jaar oud. 13 jaar en ouder kan het hoofdprogramma bijwonen, zij krijgen korting.
Op vrijdag hebben we kinderopvang tot vijf jaar oud.

- Yes! On saturday there will be an amazing TH KidsParty for kids from 6 till 12 years old, they don't want to miss this! We'll also provide daycare throughout the day from 0-5 years old, not in the evening sessions.
13 years and older can go to the main program, they will get a discount.

On Friday We'll provide daycare for kids till 5 years old.
Ik wil alleen op zaterdag komen, krijg ik dan korting? / I only want to come on saturday, do I have a discount?
- Nee, je krijgt je kaartje voor de hele zaterdag en de vrijdagavond. Zaterdags is het programma tot een uur of 5.
- No, you get your ticket for the whole saturday and the Fridaynight. Saturday's program will end around 5pm.
Is de conferentie Engels of Nederlands / Will the conference be English or Dutch?
- De conferentie zal in het Engels plaats vinden maar we voorzien simultane vertaling naar het Nederlands via headsets!
- The conference will be in English but we'll provide simultaneous translation to Dutch through Headsets!
Ik wil graag dienen tijdens de conferentie / I would love to serve during this conference!
- Graag! Mail jouw dreamteam leider en laat het hem/haar weten!
- Yes! Mail your dreamteam leader and let him/her know!
Hoe zit dat met donderdag 26 januari? / How about Thursday 26th of January?
- Op donderdag hebben we elk jaar een ARC Exchange, Thousand Hills is deel van ARC en geeft leiderschapstrainingen voor kerkleiders en mensen die dit interessant vinden! Je kunt hier een apart kopen voor de ARC Exchange! 's avonds begint de Thousand Hills Conference! Donderdagavond is gratis!

- Every year on the Thursday before the conference we have an ARC Exchange, Thousand Hills is a part of ARC and provides leadership training for churchleaders and people who are interested. You can buy your seperate tickets here if you want to attend the ARC Exchange too! Thursday Night the Thousand Hills Conference starts and Thursday Night is free!