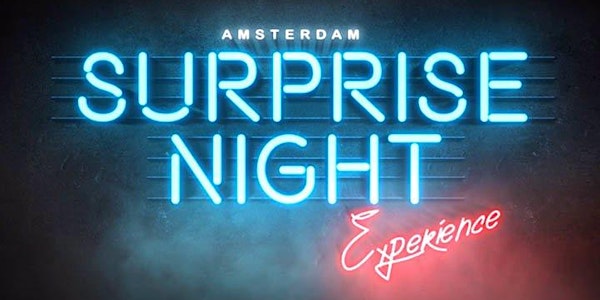 Meerdere data
Amsterdam SurpriseNight Experience
When was the last time that you really were surprised?
Datum en tijd
Begint op di. 28 mrt. 2023 18:00 CEST
Locatie
Amsterdam Herengracht 221 1016 BG AMSTERDAM Netherlands
Beleid voor refunds
Neem contact op met de organisator om een restitutie aan te vragen.
Eventbrite-kosten zijn niet restitueerbaar.
Over dit evenement
Can you remember the first time going out? The thrills of going on a first date or the feeling you had when you were preparing yourself for your first party ever?
Well, here comes our expertise! Welcome to The Amsterdam SurpriseNight Experience.
Let us surprise you and give you those thrills of the unknown again!
You see, we people are creatures of habits…
Sometimes we just need to step out of those habits, the daily routine, and the same pattern of places we visit. Step out of the "known" so that you can experience the excitement and spontaneousness of the "Unknown" again.
Choose your desired option(s) and let us surprise you with your nights-out destinations.
SurpriseNight Experience - Unique evening Nightlife Experience
Enjoy an amazing night out in the sparkling heart of the City! On the start date of your experience, you will receive the details of this adventurous Night-time attraction, where you can expect a great evening out in Amsterdam. The experience will be located in the city center of Amsterdam, so you can easily travel by public transport or take a nice short walk!
SurpriseNight Dinner - 3-Course Surprise Dinner
Are you in for a surprising, tasteful, relaxing Experience at Amsterdam's finest restaurant? Let's snazz up your evening with The Amsterdam SupriseNight Dinner! Bring along your date or friends and let us surprise you with your destination. You will be promised a beautiful 3-course menu and of course, you can choose between fish, meat or vegetarian. On the start date of your experience, you will receive the details to prepare yourself for a delicious night out. Bon Appétit!
The Full Experience - luxurious Surprise Hotel + 3-Course Dinner
On the start date of your Experience, You will receive a mail which will include the details of the restaurant where you will enjoy a 3-course Surprise Dinner and the name of the luxurious hotel where you can enjoy a relaxing night of rest. Your hotel and the restaurant will be located in or around the city center of Amsterdam. This will be a surprising, adventurous, mysterious, and delicious Experience in Amsterdam specially composed for you. At the Surprise Dinner restaurant, you can choose between fish, meat or vegetarian. *You can upgrade the 'The Full Experience' with an additional night-time Surprise Experience. Which you visit after you've enjoyed the 3-course dinner.
Tip: add the upgrade to make your SupriseNight Experience more complete!
Highlights
+ The most surprising night out in the center of Amsterdam
+ The included hotels/attractions/restaurants/experiences are always 4/5-stars rated
They all have been reviewed and rated with (very)good or excellent by thousands of previous visitors
+ Exclusively for you as an Amsterdam Nightlife Member, enjoy!
For other great nights out in Amsterdam: Click here
Over de organisator
Amsterdam Nightlife innovates and creates nightlife experiences. We build a bridge between the nightlife and visitors of Amsterdam by using a combination of experiences, technology and marketing.