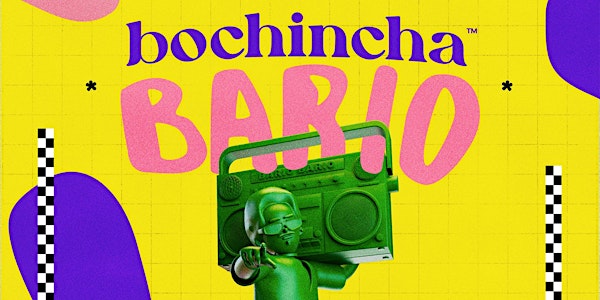 BOCHINCA BARIO @ RADIORADIO
Locatie
Radio Radio
3 Pazzanistraat
1014 DB Amsterdam
Netherlands
Restitutiebeleid
Neem contact op met de organisator om een restitutie aan te vragen.
Eventbrite-kosten zijn niet restitueerbaar.
Over dit evenement
BAR BARIO is taking over RADIORADIO!
Join us for this cute event, with a whole lot of Queerness going on <3
If you like drinking at Bar Bario, you'll love dancing at our parties!
With this ticket you can get one free housewine, pils or soda at Bar Bario and entrance to the party at RADIORADIO 22:00-03:00.
Y'ALL READY FOR THIS SEXY QUEER PARTY? WE CAN'T WAIT BABY…
We strive to create parties where we don't need tell you this, but to be sure;
JUST SOME THINGS:
THIS IS A QUEER PARTY, WITH BLACK&BROWN PRIORITY, PLEASE BE CONSCIOUS OF WHO YOU BRING TO THIS PARTY.
RACISM,
TRANS-, FAT-, XENO-, ISLAMO- OR HOMO-
PHOBIA,
ABLEISM,
SEXUAL HARASSMENT,
OR ANY OTHER FORM OF HATRED OR DISCRIMINATION
NO MEANS NO, SILENCE DOES NOT MEAN YES.
RESPECT & PROTECT YOUR NON-BINARY, TRANS & FEM FRIENDS.
IF YOU SEE SOMETHING, PLEASE SAY SOMETHING
IF ANYTHING MAKES YOU FEEL UNCOMFORTABLE OR UNSAFE, PLEASE COME TO US
WE'RE HERE FOR YOU
TRANS PEOPLE, BLACK PEOPLE, PEOPLE OF COLOR & REFUGEES WITH LIMITED FUNDS CAN DM FOR A REDUCED TICKET PRICE/ FREE TICKET.
YOU CAN GET A FREE PILS, HOUSEWINE OR SODA AT BAR BARIO PRIOR TO THE EVENT IF YOU'VE BOUGHT A TICKET.
IT'S GONNA BE SO MUCH FUN! COME SEXY & COLORFUL <3 WE LOVE YOU