Dit evenement is afgelopen.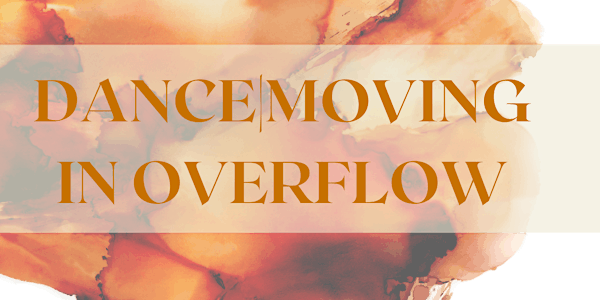 DANCE | MOVING IN OVERFLOW
DANCE | MOVING IN OVERFLOW
Waar en wanneer
Locatie
Wijkcentrum De Geus 84 Geuzenweg 1221 BV Hilversum Netherlands
Kaart en routebeschrijving
Beleid voor refunds
Neem contact op met de organisator om een restitutie aan te vragen.
Eventbrite-kosten zijn niet restitueerbaar.
Over dit evenement
HI EVERYONE,
I'm so thrilled and excited to announce that DANCE|MOVING in overflow course one is about to start! I will be offering weekly dance classes starting from the 11th of October 2022! Are you ready to express yourself, have fun, jump, spin, dance and move in the overflow? Read description below to find out more about the class.
DANCE|MOVING IN OVERFLOW is a dance coaching and training program focused on exploring, improvising, creating and connecting through dance.
DANCE|MOVING IN OVERFLOW is a Christian faith-based class. God created dance, movement, rhythm, music, and human beings for a beautiful purpose: for us to enjoy His Goodness!
During my class I enourage participants to express themselves. To explore and develop their movement qualities. I encourage dancers to learn from one another, share with one another, grow and DANCE IN OVERFLOW!
I'm so thrilled y'all! Are you ready to dance and connect? This is an OPEN class for ages 16+ at any level of dance experience. Professionals and nonprofessionals. Even if you don't believe in Christianity, you are more than welcome to join the class. You can come as you are!
I'm looking forward meeting you!
Sign up now, there are limited spots available! If there are any questions. Please feel free to send an email to: christine.amagove@outlook.com
Information about tickets. Please read information below
|| PRICE
Single class > 20,- euro for a single class (1,5 hour dance class).
Half course > 90,- euro for 5 classes (1,5 hour duration). This option is flexible, you may decide which dates you'll be able to attend the classes. Please, make sure to check the dates beforehand when all classes are being held.
Full course > 170 euro for 10 classes(1,5 hour duration) with this option you save 30 euros! Yes!
* If you are interested in following the classes, but due to personal reasons you aren´ t able to afford your ticket please send an email to christine.amagove@outlook.com.
|| TIME
Doors open - 19:15
Start class - 9:30
End class - 21:00
|| DATES COURSE ONE
OCTOBER >> 11, 18
NOVEMBER>> 1, 8, 15, 22, 29
DECEMBER>> 6, 13, 20
Background information about myself
Hi my name is Christine Amagove Karani, a professional dancer, dance teacher and creator based in the Netherlands.
Professional background
I earned a Bachelor's Degree in Dance Education where I was trained to become a dance professional, capable of directing dance projects in a culturally diverse working field and providing dance education. In the past six years, I have developed myself as a creative and innovative teacher in culturally diverse schools (high school education), talent development programs, MBO dance education and the intercultural community. I have coached several students from the teachers department during their internship (Amsterdam Universiry of the Arts). In 2018 I was one of the founders of SONGA Dance project Kenya.
Personal background
I was born in Nairobi, Kenya, and raised in the Netherlands from the age of seven. Dancing has been a passion for me since then.
After facing many years of depression, fear and lack of self worth. I became a Christian in 2020. A lot has shifted since then. I believe that Jesus Christ is Lord and Savior. I'm so thankful that God created me with the gift and ability to dance. I'm thankful that I'm able to share this gift with you. I believe that our brokenness is where our blessings come from. Therefore, I'm extremely joyful and grateful to share my dance classes with you. I pray that it will encourage you and be a blessing to you.
I pray that God, the source of hope, will fill you completely with joy and peace because you trust in him. Then you will overflow with confident hope through the power of the Holy Spirit - Romans 15:12