Dit evenement is afgelopen.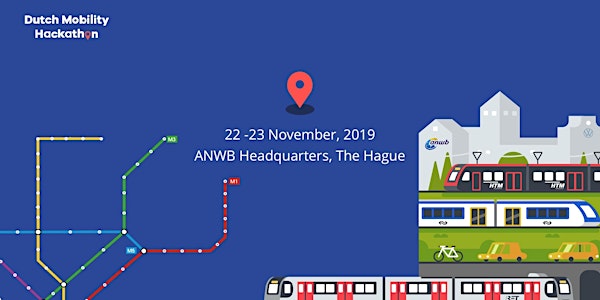 Dutch Mobility Hackathon - 22-23 November 2019
Become a mobility superhero and help us to make the Netherlands smarter, more flexible, greener and safer.
Waar en wanneer
Locatie
Headquarter ANWB The Hague 220 Wassenaarseweg 2596 EC Den Haag Netherlands
Kaart en routebeschrijving
Over dit evenement
Sign up now for the Dutch Mobility Hackathon 2019!
On 22-23 November the ANWB, HTM, NS, RET and Volkswagen Pon Financial Services are organising the third edition of the Dutch Mobility Hackathon at the Headquarters of ANWB in The Hague.
The only mobility hackathon where you can be limitless and make the Netherlands smarter, more flexible, greener and safer!
-------------------------------------------------------------------------------------------
Ready, set, GO: Make mobility flow!
Since the capacity of urban public roads and the rail network will become insufficient to meet the increasing demand for mobility, we are looking for new, cutting-edge solutions in mobility and travelling within (public) transport. The main goal is to find solutions to prevent that the traffic in the Netherlands will get (even more) stuck in the upcoming years.
What the hack is a hackathon?
A hackathon is a competition in which teams work together to build and design solutions for a problem or challenge in a very limited time. The duration of a hackathon varies, however most hackathons are organised in +/- 24 hours. After this time the various solutions will be presented to a leading jury and the best solution(s) will win a prize.
Why you don't want to miss out?
During the Dutch Mobility Hackathon you will experience how mind-blowing and super cool a hackathon can be. In +/- 24 hours our mentors will learn you more about methodologies, such as Design Thinking and Lean Start-up, and also you will meet new people with different backgrounds. Groups will be formed by diving into your strengths. To top all of that off the total amount of the prizes you can win this year will be over >10K!
Prizes:
First prize: €6000,-!!!
Second prize: €3000,-!!
Third prize: to be announced
Who are we looking for?
We are looking for Mobility Heroes in the field of development, UX/UI design, data science, marketing and entrepreneurship.
Even though technology and data will play a key role in building and designing solutions, you don't actually need to be a 'techie'. On the contrary: during a hackathon it is also about pragmatic and creative thinking. Therefor we encourage everybody with a passion for mobility to register and become a Mobility Hero!
Participation of this event is free. In fact.. we will spoil you and take care of everything you need to become a mobility superhero! -------------------------------------------------------------------------------
Nice to know:
Participation is free, food and other fun activities too.
We recommend to form a group with maximum 6 members.
It is handy to take your laptop with you.
You can sign up individually, on the day itself there is enough time to make your winning superhero team.
We have some 'chill-areas' at the event space, so if you want to take a powernap during the 24-hour hackathon that is possible.
Do you have questions about this event or would you like to receive more information? Contact the organization of this event: office@hackathonfactory.nl (in Dutch or English).