Evenementdetails
Locatie
WestCord Fashion Hotel Amsterdam
1 Hendrikje Stoffelsstraat
1058 GC Amsterdam
Netherlands
Beschrijving van het evenement
Beschrijving
"It takes a checkbook to change the world" . Mother Teresa

The EBW Circles are designed as a leader, intrapreneur or entrepreneur.
We are women who are gathering together to help and support one of our highest potential people as well as in service but also as earners.

To live and earn our fullest potential it requires:
1. KNOW WHAT IS NOT WORKING:
What could be your limiting belief (and now look at that positive for example: I do not think I can earn enough) CHANGES TO "I am rewarded for transforming the lives of others")
2. WHAT IS A NEW BELIEF:
"This is an abundant world and I can see it happen"
Our topic for this month is: How to Find and Secure the Right Mentor
Dresscode: Business Smart / Business Casual
Include drinks and snacks
Melissa Tolud welcomes you at the FIRST EBW2020 pre-launch event and hopes to see you there!
Our Guest speakers Tina Alton (right), the CFO of EBW2020
and Inge Mous (left), a serial entrepreneur and an investor.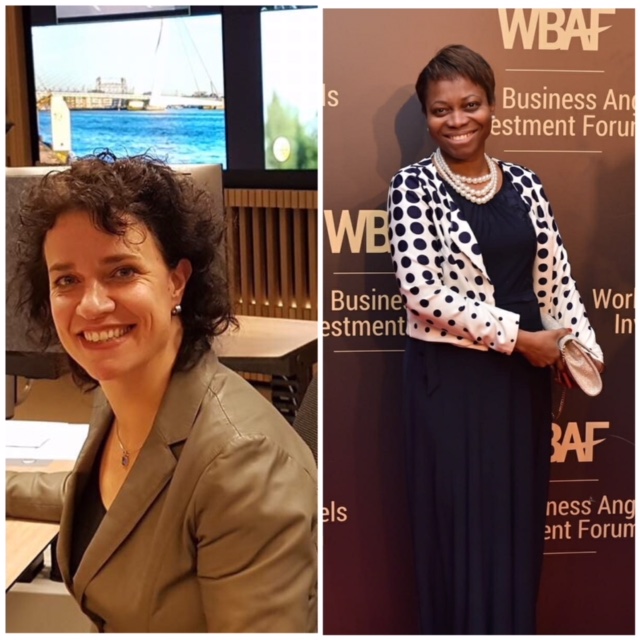 Inge Mous is a politician, a serial entrepreneur and an investor. In 1997 she first started entrepreneurship while being a mum of two very young children and next to her job. As an obstetric nurse she discovered the need of many expecting women and their partners, for a proper preparation to give birth. That successful business provided the blueprint for her further life and career, noticing a need and covering it, always putting high standards for her performance as well as to her results.

From nursing she switched to social work and got her bachelor's degree. Inge covered several leading positions, paid as well as unpaid such as being the chair in a committee for a large Dutch bank. At the age of 38, noticing all the troubles when people don't properly communicate, she started her sole proprietorship as a mediator, trainer and advisor. She worked for the Rotterdam court as well as for companies and private people. Together with her husband she is the founder of the Amsterdam chapter of an international business club and they run their own investment company in movies and property. She studied at, and got coaching from several leading business organisations like JT Foxx and T. Harv Eker, and Tigrent now Legacy professional property investment.

In 2014 Inge was elected with preferential votes as a councilwoman in Dordrecht. She participates in the Drechtraad representing over 270.000 inhabitants and in a national committee for the VNG, the union of Dutch municipalities. She was interviewed for newspaper Het Algemeen Dagblad and for Global Woman Magazine and exposed in other media like radio and TV.

Inge claims that the influence of women is key in changing the world. To enhance women's confidence to speak up for themselves, women need the right schooling and training, coaches and role models and the finances to be independent. She founded Women of Power and Change and spoke in different countries around the world like Albania, Cyprus, England and Italy. In 2017 she was the only representative for the Netherlands at the Mediterranean Dialogues in Italy to enhance the peace process between countries around the Mediterranean Sea and beyond.

Inge is dedicated to the values of loyalty and commitment and in 2016 she was awarded with the loyalty award at the JT Foxx organisation. Inge lives in Dordrecht, The Netherlands.
Tina Alton
Tina Alton is the CFO of EBW2020 'Empowering a Billion Women bij 2020', a global Fintec company that connects women entrepreneurs to funding resources by providng an education system, a range of digital technology tools, leadership skills, a financial plan and acces to a community of like minded thinkers who help you accelerate your business growth for a bigger impact.
Tina also sits on a special advisory board for EBW2020.
Tina is a qualified Educational psychologist with over 20 years experience in business, an award winning entrepreneur, mentor, international speaker and world leading inlfuencer and change maker renowed for teaching leadership skills, business growth and global branding, especially to women owned business across the globe.
The Co-Director of Circle Podiatry – UK's #1 private Podiatry brand awarded as the best SME business for customer experience in the whole of London.
The Co-Founder of Undefeered.Org, also an award winning global not-for-profit organisation which provided education, raising awareness and strategies to countries to deal with the prevention of avoidable diabetes-related lower limb amputations currently happening once every 20 second of which 85% can be avoided.
The global director for Usense, which seeks to solve technological problems across several industries such as education, health, media, retail, business and finance etc. They provide digital products including mobile applications helping entrepreneurs to gain a bigger reach of their customers.
Tina works with business owners, corporations and organisations helping them to attain faster business growth increasing your bottom line in 90 days or less.
Most recently Tina is also leading a global humanitarian project HUM in India to support disadvantaged women.
She is revered to as an entrepreneur of excellence.
Her work has seen her take many stages in USA, Bahamas, Europe, India, Africa and many more.
For more information please visit our website http://ebw2020.com
PS NO REFUNDS
Datum en tijd
Locatie
WestCord Fashion Hotel Amsterdam
1 Hendrikje Stoffelsstraat
1058 GC Amsterdam
Netherlands
Beleid voor refunds