Dit evenement is afgelopen.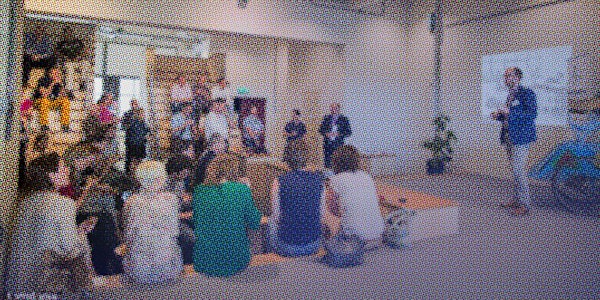 FBA Bootcamp: 'Start up!'
Waar en wanneer
Locatie
Founded By All 144 Klokgebouw 5617 AB Eindhoven Netherlands
Kaart en routebeschrijving
Beleid voor refunds
Neem contact op met de organisator om een restitutie aan te vragen.
Beschrijving
FBA Bootcamp: 'Start up!'
Tijdens de Dutch Design Week organiseert coöperatie Founded By All een drietal bootcamps die in het teken staan van creativiteit, ondernemerschap en innovatie. Elke bootcamp biedt een interessant programma vol workshops, masterclasses en brainstormsessies. Hierbij nodigen wij je uit voor Bootcamp dag 2: 'Start up!'. Er is beperkt ruimte dus vol is vol!

Ben jij een startend creatief ondernemer of denk je erover om voor jezelf te beginnen? Dan is de FBA Bootcamp 'Start Up!' iets voor jou! Naast dat jij natuurlijk goed bent in je vak, wordt er als ondernemer nog veel meer van je gevraagd.


Deze dag staat in het teken van samenwerking, creatief denken, netwerken en marketing. Binnen een groep werk je aan een concept voor jouw bedrijf, evenement of organisatie dat je gedurende de dag uitwerkt tot een concreet businessplan.

Dankzij interessante workshops, leerzame masterclasses en natuurlijk goede onderlinge samenwerking leer je deze dag wat er allemaal komt kijken bij het runnen van een onderneming. Door samen te werken en kennis uit te wisselen, zul je zien dat creatieve processen en het opbouwen van een netwerk veel sneller gaan.

Doel is om de jury aan het eind van de dag, doormiddel van een korte pitch, te overtuigen van het (potentiële) succes van jouw concept.

Pitch-avond: Found-it 19.00 uur
De pitch-avond Found-it, begint om 19:00 uur en is vrij te bezoeken voor iedereen.
Als deelnemer van de bootcamp krijg je de unieke kans om je bedrijfsplan te pitchen voor succesvolle ondernemers op het gebied van design, marketing en coaching van start-ups. Zij zullen jou waardevolle feedback en tips geven. Neem je geen deel aan de bootcamp, maar ben je wel geïnteresseerd in nieuwe start-ups met potentie? Ook dan ben je van harte welkom!

Kortom, meedoen aan deze bootcamp geeft jouw start-up-plannen een boost!
Toegangsprijs:
€ 10.00. Dit is inclusief koffie, thee, lunch, pizzadiner en workshopmaterialen.
Datum en tijd:
22 oktober van 10:30-17:30 uur
Inschrijven:
Voor dit event moet u zich inschrijven. Voor meer informatie kunt u mailen naar: info@foundedbyall.com - Max 30 aanmeldingen
Special: Netwerkborrel vrijdag 23 oktober 16.30 uur Op vrijdag 23 oktober organiseren we een netwerkborrel waar alle bootcampers een expositieplekje krijgen om hun werk van de afgelopen dagen te presenteren. De jury neemt al het werk nog een keer aandachtig door en reikt aan het eind een prijs uit voor het meest innovatieve, creatieve of spraakmakende project.
De borrel start om 16:30 uur en is vrij te bezoeken voor iedereen.