Dit evenement is afgelopen.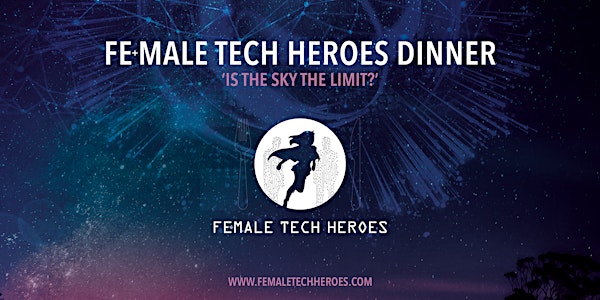 Fe+male Tech Heroes dinner
Is the sky the limit?
Waar en wanneer
Locatie
Restaurant The Lounge High Tech Campus 1A, The Strip (First floor) 5656 AE Eindhoven Netherlands
Kaart en routebeschrijving
Beleid voor refunds
Restituties tot 1 dag voor evenement
Eventbrite-kosten zijn niet restitueerbaar.
Over dit evenement
Join us for the Fe+male Tech Heroes dinner on Tuesday October 12th for an evening full of networking, great food and inspiring speakers who talk about reaching for the stars, falling down and getting back up again.
1. Date & time
Date: Tuesday October 12
Time: 17.00 - 21.30 hrs
Location: Restaurant The Lounge (HTC 1A, first floor), High Tech Campus Eindhoven.
2. Covid-19 measures
We follow the current corona rules in the Netherlands. During this event we will aks you for a valid QR code in the CoronaCheck app. Because of this rule, we let go of the 1,5 meters. We have room for 100 guests.
3. Program 'Is the sky the limit?'
Between courses we have two inspiring heroes lined up for you: Oana van der Togt (TNO) and Margot Nijkamp (ESTI). Read more about the program here: https://www.hightechcampus.com/events/fe-male-tech-heroes-dinner-is-the-sky-the-limit
Do you have any allergies or food intolerances? Let us know via ingelou.stol@hightechcampus.com.
Refunds up to 1 day before the event.