Evenementdetails
Locatie
GoDataDriven
202 Wibautstraat
1091 GS Amsterdam
Netherlands
Beschrijving van het evenement
Beschrijving
Godatafest 2018 is a six-day long celebration of the latest and greatest technology for data-driven organizations, including open source tools and leading technology providers like Databricks, Dataiku, Google Cloud Platform.
Feel free to mix-and-match activities to create your ultimate and personal data festival. Make sure to register directly, as seats are limited.
Monday, October 15
This day focuses on AWS and features ask me anything sessions, workshops, customer stories, training, and a meetup.
Amazon Web Services offers reliable, scalable, and inexpensive cloud computing services. Amazon Web Services offers a broad set of global cloud-based products including compute, storage, databases, analytics, networking, mobile, developer tools, management tools, IoT, security and enterprise applications. These services help organizations move faster, lower IT costs, and scale. AWS is trusted by the largest enterprises and the hottest start-ups to power a wide variety of workloads including web and mobile applications, game development, data processing and warehousing, storage, archive, and many others. Monday, October 15, is dedicated completely to AWS data technology.
The Program
9:00 - 09:15
Opening notes
9:15 - 10:15
Machine Learning in the Real World - Guy Kfir, Snr. Business Development Manager AI/ML (AWS)
10:15 - 11:00
Half Hour of Flower: Planting the Seeds for Great Image Quality - Dirk Guijt, Data Scientist (Royal FloraHolland)
11:00 - 11:15
Break
11:15 - 12:45
Machine Learning: From Notebook to Production with Amazon SageMaker - Prakash Palanisamy, Solutions Architect (AWS)
12:45 - 13:30
Lunch & Networking
13:30 - 14:30
Using Amazon AI Application Services - Brajendra Singh, Partner Solution Architect (AWS)
14:30 - 15:30
Workshop - Elastic Cloud Engineering in practice using rubycfn - Dennis Vink, Cloud Consultant (Binx.io)
15:30 - 16:30
Data Lakes and Analytics on AWS - Pierre Merle, Partner Solution Architect (AWS)
16:30 - 17:30
Workshop AWS Session by Martijn van Dongen, Chief AWS and APN Ambassador (Binx.io)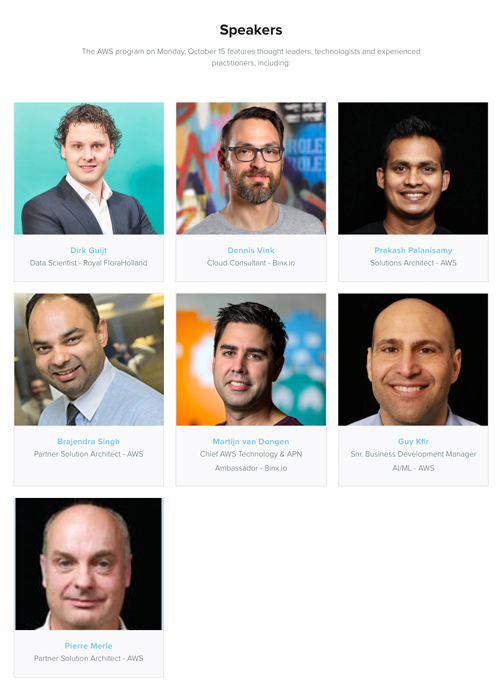 Festival of Data Technology
Leading tech companies, like AWS, Dataiku, Databricks, and Google, each host an entire day to share their latest innovations.
Datum en tijd
Locatie
GoDataDriven
202 Wibautstraat
1091 GS Amsterdam
Netherlands