Dit evenement is afgelopen.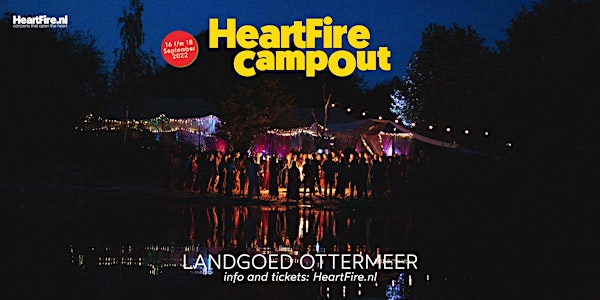 HeartFire CampOut 16 - 18 September 2022
HeartFire CampOut 2022 with Nick Barbachano, Carrie Tree, Kevin James & Susana, Ecstatic Dance with DJ Martyn Zij & DJ Caroline & more magic
Waar en wanneer
Locatie
Landgoed Ottermeer Ottermeerweg 2 4725 PZ Wouwse Plantage Netherlands
Kaart en routebeschrijving
Artiesten
Nick Barbachano
Carrie Tree
Kevin James
Beleid voor refunds
Geen refunds
Over dit evenement
HeartFire CampOut 16 - 18 September 2022 Landgoed Ottermeer
After two beautiful and intimate editions of our first HeartFire CampOuts in 2021, we love to gather again around the HeartFire and celebrate the end of the summer and the beginning of the Autumn season with you all. We are so happy that we can announce the new dates for the CampOut 2022 on 16 – 18 September 2022.
It would be great if you join us for this camping gathering with Nick Barbachano (Puentes), Kevin James & Susana, Carrie Tree & Kusñi Bear, Ecstatic Dance DJ's Caroline and Martyn Zij & more magic on the beautiful natural camping ground Landgoed Ottermeer.
Ottermeer is a sacred place that is created with much love and in harmony with nature. A little paradise that is welcoming us with open hearts and arms. We have set a strong intention to create much beauty together!
HeartFire CampOut is a spontaneous camping experience, born in 2021, where you go campout with friends and family in nature. For every edition we invite artists and dj's that have touched our hearts with their music, sacred sounds and vibrant energy. Music, dance and ceremony as Medicine!
We will open and close the CampOut with a ceremony with all Heart Travelers. There will be no day tickets available.
Sacred World Music | Ceremony | Ecstatic Dance | Singing | Nature | Stillness | Connection | Playfulness | Celebrating Life
As HeartFire we believe that in this time of transition it is important to come together in a tribe to connect with eachother and to reconnect with our hearts and to lift our spirits high. Together giving shape to the new earth where love, trust and beauty resides. Let's gather around the Hearthfire and celebrate this wonderful life.
More info about the HeartFire CampOut 2022 & the program on our website: https://heartfire.nl/events/heartfire-campout-2022-kevin-james-susana-carrie-tree-kusni-bear-ecstatic-dance-martyn-zy-caroline-september-16-17-18-landgoed-ottermeer/.