Dit evenement is afgelopen.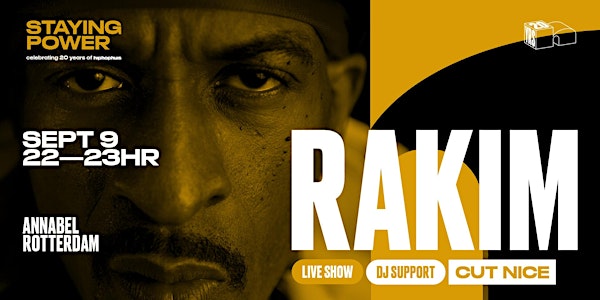 Hiphophuis 20th anniversary: Performance 'The God MC' Rakim
Staying Power: Celebrating 20 years of hiphophuis with performance by 'The God MC' Rakim
Waar en wanneer
Locatie
Annabel 20 Schiestraat 3013 AH Rotterdam Netherlands
Kaart en routebeschrijving
Over dit evenement
Staying Power: Celebrating 20 years of HipHopHuis
In the weekend of September 9, hiphophuis will celebrate its twentieth anniversary. A moment that we do not want to pass unnoticed and which we'll celebrate together with our extended family, partners and stakeholders through a 20-hour program. With the theme 'staying power', this year we will focus on how we as individuals and community stay 'physically' and 'mentally' healthy in a world in which we constantly have to reinvent ourselves?
As headliner we invited The God MC Rakim for an artist talk in the HipHopHuis and a live concert in Annabel. As an artist, he is living proof that ultimate talent and a strong message form the basis for a sustainable career. With this he has inspired generations after him and this talent now makes him undisputed as a rapper. His solo debut album 'The 18th Letter' also celebrates its 25th anniversary this year.
More info about the 20-hour celebration coming soon!