Dit evenement is afgelopen.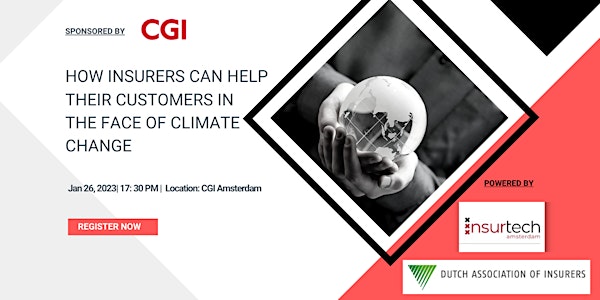 How insurers can help their customers in the face of climate change
This event will be an in-person event with representatives from cutting edge technology companies and insurance companies.
Waar en wanneer
Locatie
De Entree 21 21 De Entree 1101 BH Amsterdam Netherlands
Kaart en routebeschrijving
Over dit evenement
Climate change is one of the most pressing issues of our time, and its effects are already being felt by communities around the world. One of the industries that is particularly vulnerable to climate change is the insurance industry, as insurers are faced with increasing claims from policyholders who have been impacted by extreme weather events.
In order to effectively respond to this challenge, we need to consider new ways to fight and adapt to climate change. There are many ways to contribute to climate change adaptation, including developing better models for predicting risks and improving communication between stakeholders. It is important to ensure that stakeholders can access resources to help them be better prepared for the changing conditions.
As the climate continues to change, the insurance industry will be increasingly called upon to help stakeholders mitigate the risks of climate related catastrophes. On January 26, 2023, we will host our first event since the pandemic began. The meetup will be an in-person event with representatives from cutting edge technology companies and insurance companies. The goal of the event is to provide attendees with the opportunity to learn about the latest technology being developed to help mitigate the risks of climate related catastrophes.
We will discuss how insurers can help their customers adapt to climate change, both in terms of risk management and resilience, as well as highlight 4 startups that are working on innovative solutions to climate change. This will be a great opportunity to learn more about what others are doing to combat climate change, as well as, meet and network with a room full of Insurtechs, Innovators and Insurance companies.
Agenda (Subject to change):
Arrival and Welcome (5:30pm - 6:30pm)
Introductions
Presentation by Wouter Bosschaart, Director Strategic Consulting - STG - Proposition lead on ESG and Climate Change at Aon
Presentation by CGI
Pitch 1 - Agurotech
Pitch 2 - Next Ocean
10 min Break
Pitch 3 - Meteum.AI
Pitch 4 - Weather Impact
Pitch 5 - HydroLogic
Closing thoughts
Networking
This is a fantastic opportunity for our community to gather together and connect with one another. We would love to have you join us for this special event. Please RSVP to make sure we have the space we need. We look forward to seeing you there!
Location
CGI Amsterdam
Address: De Entree 21, 1101 BH Amsterdam
Parking
Parkeergarage P5 Villa ArenA Amsterdam Zuidoost
Sponsored by CGI
Founded in 1976, CGI is among the largest IT and business consulting services firms in the world. Operating across the globe, CGI helps insurers transform their businesses by implementing innovative solutions across the entire value chain. CGI industry expertise spans all areas of insurance including property/casualty, life and accident, and health insurance.
*Powered by Insurtech Amsterdam and The Dutch Association for Insurers