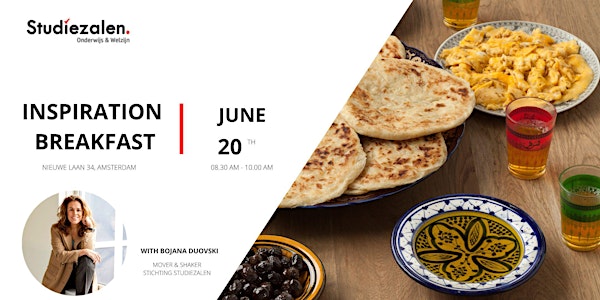 Inspiration breakfast at Stichting Studiezalen
Come and have a nice breakfast and get inspired at Stichting Studiezalen on June 20th from 8:30 am.
Door Stichting Studiezalen
Datum en tijd
di. 20 jun. 2023 08:30 - 10:30 CEST
Locatie
Amsterdam Nieuwe laan 34 1068 bz Amsterdam Netherlands
Agenda
8:30 AM
Start with welcome and breakfast buffet
8:40 AM
Introduction Stichting Studiezalen
9:00 AM
Interactive session
9:30 AM - 9:45 AM
Tour Fris Supermarket
9:45 AM - 10:00 AM
Connect and interact
Over dit evenement
2 uren

eTicket voor mobiel
Are you looking for a way to contribute to society you live and/ or work in? Are you feeling you need to step out of your bubble? You don't know where to start or can't commit to a set of hours, but you have the urge to make some positive impact on the world around you?
The Mover & Shaker of Stichting Studiezalen, Bojana Duovski is cordially inviting you to an inspiration breakfast on one of the locations of Stichting Studiezalen.
Are equality of opportunity and diversity & inclusion topics you would like to contribute? Come and have a sneak peek behind the scenes of our foundation. Get introduced to the work we do, visit the first free supermarket in the world: FRIS, get to know like-minded people and at the same time people you don't easily encounter in you daily life. The program is interactive and hopefully you will get inspired to join our mission: A good night's sleep for every child.
Participation is free, but we appreciate a donation to our supermarket Fris
About Studiezalen
Stichting Studiezalen is active on 47 locations in vulnerable areas of Amsterdam and Zaandam, supporting 1.400 children per week, 600+ students and 140+ families. We hack the intergenerational transfer of poverty and inequality of opportunity by offering a quiet and safe space, homework assistance, life coaching and positive perspective. Our foundation and founder Abdelhamid Idrissi have received many national and international awards and recognitions for the vision and activities of his integrated approach for vulnerable areas.
Veelgestelde vragen
What are the details of the location?
Over de organisator
Stichting Studiezalen biedt bewoners van kwetsbare wijken de kans, de ruimte en de begeleiding om hun talenten tot bloei te laten komen. Studiezalen doorbreekt intergenerationele overdracht van armoede en kansenongelijkheid door ruimte, huiswerkbegeleiding en life coaching te bieden. Zo maken we alle kwetsbare wijken in Nederland krachtig.