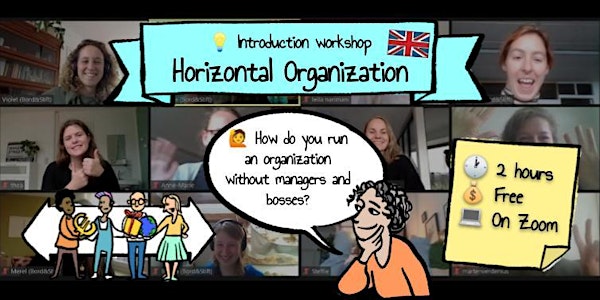 Intro workshop Horizontal Organization (online) (kennismakingsworkshop)
Based on theory and our own experience, we will give you a glimpse into what it means to be a horizontal organization.
Over dit evenement
👫 Who is this workshop for?
For people who already work within a self-managing organization or when you are taking the first steps towards self-organization. There is room for 12 participants, we like to keep it small-scale so that there is plenty of room for exchange.
💬 What did participants say about our previous workshops?
"Well organised, useful tips and tricks, the process of the workshop itself was also nicely horizontal. Bord&Stift speaks from experience and you notice that."
"Nice meeting of a group of like-minded people, giving a first glimpse of how horizontal organizing can work."
"I found the workshop inspiring, especially because it was so practical. I feel like I can get started right away. I also found the interaction with the other participants very valuable."
🏄‍♀️ What are we going to do?
In this workshop we will share our do's and dont's, when it comes to running a horizontal organization, a self-managing organization. How was our journey, what did we find to be key ingredients for a self-managing organization, and which problems did we run into? In the second part of the workshop we will split up in break-out rooms, where we can discuss specific themes and interact with each other on the topic.
🌱 Why should I participate in this workshop?
For everyone who is interested in self-managing teams, who is considering to work with it or who already is working with it, it can be interesting to hear our story, hear the other participants' stories and share their own experiences. We welcome you to join!
💚 And why is Bord&Stift actually suitable to give this workshop?
Fair question! To be fair, besides Bord&Stift there are a lot of other companies that also give very good workshops in self-organization, so if you choose someone else, no hard feelings. What we are good at:
Sharing our honest story, we don't make it more beautiful than it is
We had to figure it all out ourselves, so we don't only know the theory, but also the unruly practice
A lot of attention for you as a person in the workshop, so that you really go home with things that are relevant to you
📅 I can't make it on this date, but I would like to participate, what now?
Oh sorry, we're going to miss you! Roughly there are then two options
Check our other workshop dates (maybe this workshop is scheduled to be held again)
We can also give the workshop in-house at your organization. Send us an email at contact@bordstift.nl.