Evenementdetails
Locatie
Hotel en Conferentiecentrum Landgoed Zonheuvel
98 Amersfoortseweg
3941 EP Doorn
Netherlands
Beschrijving van het evenement
Kick-off session NL MWC 22 for partners & participants The Netherlands
Over dit evenement
January 17, 2022
Dear All,
2022 will hopefully be a healthy, prosperous and exciting year as we are heading for MWC22 in this new year. Hence the right moment for our traditional event kick-off.
Currently the event is only some 4 weeks ahead of us. Matters are looking favourably as some 1.500 organizations are expected to exhibit and more than 150 countries to be represented at MWC22. Are we returning to normality and conditions as in previous times? Sure seems like it, step by step.
The Netherlands is preparing for its presence and we count on your contribution to put our innovative country in the spotlight again. MWC21 worked out nicely and MWC22 should even be a lot better!
So, we are happy to announce the kick-off for NL MWC22 which will be organized on Thursday February 3, 2022. You are welcome to attend from 13:30 hrs, the session will start at 14:00 hrs and will cover:
• Opening & Objectives NL MWC22 by Dick van Schooneveld
• Program overview MWC and 4YFN 2022 by Mark Beermann
• The Netherlands Pavilion at MWC22 by Peter van der Ham
• Participating ecosystem partners by Dick van Schooneveld
• NL MWC22 Media Campaign by Eric Luteijn, ITchannelPRO
• Sustainable Development Goals and MWC22 by Olaf Müller
• Facilities and services offered at MWC22 by Mark Beermann
• Innovation Challenge Acció Cat at MWC22 by Paul Barreveld
• Logistics, planning & other information by Peter van der Ham
• Networking opportunity w/drinks at the Zonheuvel property
Location: Landgoed Zonheuvel, Amersfoortseweg 98, 3941 EP Doorn. The meeting room/studio will be in the main building on the first floor, congress room C. Please register yourself and also indicate if you are planning to participate live or online. Feel free to reach out to our project manager at peter@enterprisesummit.nl or call on +31 6 1027 0000 in case of questions, suggestions or otherwise.
Program, services and other details available on NL MWC21 program.
We look forward to meeting you in Doorn on our journey to Barcelona!
Thanks/best regards,
Your NL MWC Team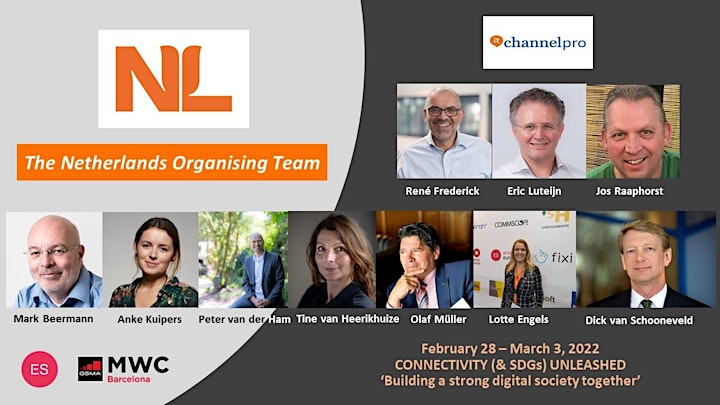 Datum en tijd
Locatie
Hotel en Conferentiecentrum Landgoed Zonheuvel
98 Amersfoortseweg
3941 EP Doorn
Netherlands