Dit evenement is afgelopen.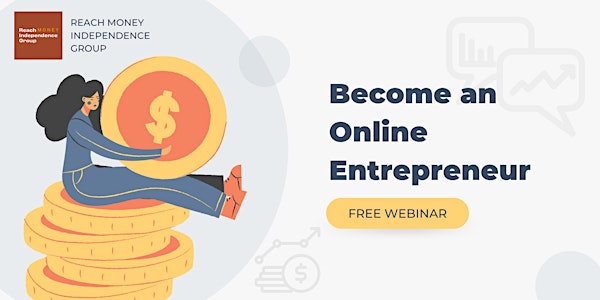 Learn To Create A Second Income Online (Webinar)
Webinar to learn how to create a second income as online entrepreneur
Over dit evenement
Are you searching for a way to earn a second income? Because you want to be able to pay your bills and have extra money to do fun things with your family and friends? Do you feel stressed because the inflation is making life more expensive then ever? Do you feel like you're living to only work and you don't seem to be able to rest?
Do you feel burned out because you're worrying about money, your savings, paying for college, not having free time to go on holiday?
Do you want someone to just show you one way to setup your own second income? Are you tired of reading and listening about people reaching financial independence and freedom?
And you don't want to feel like everyone else is in the game and you're being left out?
Become part of the hustle. Be the one telling others how you were able to create your own second income next to your current day job.
Let yourself be guided by an expert. Who is a person just like you and me. Who started his own second income next to his day job. He understands our pain and struggle.
I was reading, learning and searching for a way to understand the hustle. It was just too much information. I couldn't focus and I didn't have the money and time to spend on an endless road to nothing.
That's when I joined this specific webinar to learn about this system. I knew that I wasn't able to do it alone. So I listened and implemented Paul's system.
I wasn't lost anymore and learned how to build my own online business.
This system will help you too! I was working over 40 hours per week at my 9-to-5 day job, and in the evenings and weekends I was working another 20 hours each week trying to find a way out.
This webinar gave me proof that it's possible to work 9-to-5 and create my own second income without building a whole company or new product. Paul's system will show you that you can use existing systems and how to monetise it.
Paul has taught me what it means to Work SMART and succeed.
My mindset has been transformed. Now I believe in the possibilities and I believe that it's possible to build your own side hustle without breaking the bank.
You can start as well. You just need to see the path and understand the system.
I feel free, and I'm still working hard. But I'm working with a smile and working SMART. I'm more happy and rested.
Trust yourself to reach any goals you set. Start with attending this online webinar. Commit to your own goals and learn how the system will work for you.
In this webinar Paul will show you how you can generate leads without selling any product at all.
He will show you how you can work smart, copy and paste his system, and how you can use everything he is telling to build your own online business.
Get your ticket to freedom by only investing your time to listen.
Paul will show you how to:
🚀 How easy and fast it is to generate leads
🚀 How to get tons of free traffic from LinkedIn and other socials platforms
🚀 How to build your online business without any website or landing page
🚀 How this can be done with just an hour a day, and how you can automate this process so you only have to work a few hours each week!
🚀How to earn money without selling products or affiliate marketing
🚀 How to do this without any experience in digital marketing
🚀 How to build an online business without any technical experience
🚀 How to do this without costing you any money on Premium LinkedIn accounts or advertisements
Join this online event. Then secure your online seat by registering. We will remind you before the events starts.
If you register you'll be able to get the recording of this live session.
LIMITED SEATING – so make sure you grab your seat now and show up 10 minutes early.