Dit evenement is afgelopen.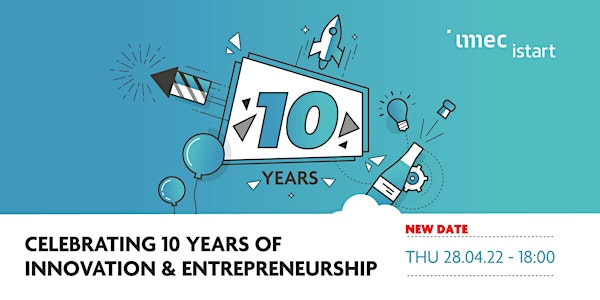 Let's celebrate 10 years of imec.istart!
What a decade worth celebrating!
Datum en tijd
do. 28 apr. 2022 18:00 - vr. 29 apr. 2022 01:00 CEST
Locatie
Vooruit Sint-Pietersnieuwstraat 23 9000 Gent Belgium
Over dit evenement
Imec.istart blew out 10 candles last year!
There's no better opportunity to shine a light on everyone that helped us get here. Together, we've built a thriving network of forward-thinking individuals and companies to facilitate meaningful change through entrepreneurship.
Thank you for being part of our incredibly diverse, collaborative, and supportive community of entrepreneurs and innovators that spans across the country and beyond.
In times where social connectedness has been reduced to online interaction, it's time to look forward to connecting with each other in real life again. That's why we're excited to organize our biggest celebration yet!
On April 28th, 2022, we'll bring together startup founders, imec.istart program partners, fund partners, investors, mentors, coaches, and entrepreneurship supporters to celebrate the collective journey we've been on, while contemplating about where to go next.
So in case you're wondering, here's what to expect:
An intimate and inspiring debate on what the future holds
An interactive look at our army of tech start-ups
Conversations that will trigger your curiosity
The diversity of the imec.istart community, all in a single place
A dynamic and entrepreneurial, yet playful vibe
An abundance of casual food and drinks
Music that might get you dancing
During this event, we're celebrating you. We've been fortunate to have you by our side during the past 10 years, and we'd love to raise our glass to acknowledge what we've achieved together. Here's to the next decade!
We're looking forward to (re)connect with you at our event.
The imec.istart team -
Andrea, Ann, Elise, Emmeline, Erik, Hanne, Ilse, Jenny, Karlijn, Kris, Kristof, Les, Maarten, Nele, Robby, Sophie, James, Michael, Tim, Tinne, & Sven
Over de organisator
imec.istart is the first investor and supporting partner to scale your tech startup, ranked the no.1 university-linked accelerator in Europe by UBI Global.