Dit evenement is afgelopen.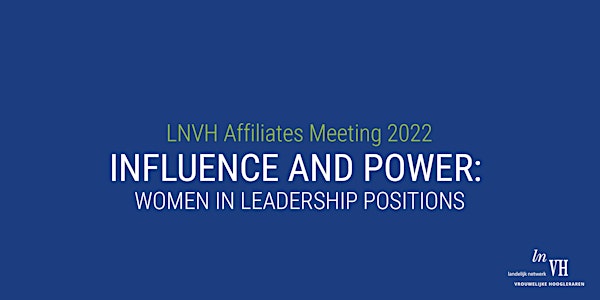 LNVH Affiliates' Meeting 2022 | LNVH Landelijke Bijeenkomst 2022
Please register for the LNVH Affiliates' Meeting | October 31, 2022 | 5 pm CET | The Hermitage in Amsterdam
Waar en wanneer
Locatie
Hermitage Nieuwe Keizersgracht 1 1018DR Amsterdam Netherlands
Kaart en routebeschrijving
Over dit evenement

The annual Affiliates' Meeting of the Dutch Network of Women Professors is taking place shortly and we cordially invite you to attend. We look forward to seeing you on 31 October in museum The Hermitage in Amsterdam. At 17:30h The Hermitage will open its doors especially for us.
 Topic of this edition: Power and Influence. Women in Leadership Positions. We invite you to join the networking dinner and listen to speeches by various speakers from the cultural sector, the political arena and academia, who will shed light on this theme.
 This meeting is intended as a networking event for female associate professors and professors affiliated with the LNVH (LNVH affiliates). It offers the opportunity to talk and meet each other, for new affiliates to get acquainted with the LNVH, and to enjoy a program with inspiring speakers:
Listen to museum director Annabelle Birnie's speech on female leadership in the cultural sector and exchange thoughts with leadership expert and author of the bestselling book 'De Zijkant van de Macht. Waarom politiek te belangrijk is om aan mannen over te laten.', Julia Wouters.
Register now via the button on this page to be sure of a seat at the table. In the run-up to the event you will receive additional information about the program and the other speakers. You can also reserve an entrance ticket for the museum upon registration - with a special discount of course. There is no registration fee for this event. The event will be held in English. 
We look forward to a wonderful evening!
Outline of the programme 
5:30 pm  Reception & Drinks
6.00 pm  Opening by Hanneke Takkenberg, LNVH chair
6.15 pm  Keynote speeches and dinner
9.00 pm  Dessert & Coffee
9.30 pm  Closing by Hanneke Takkenberg, LNVH chair