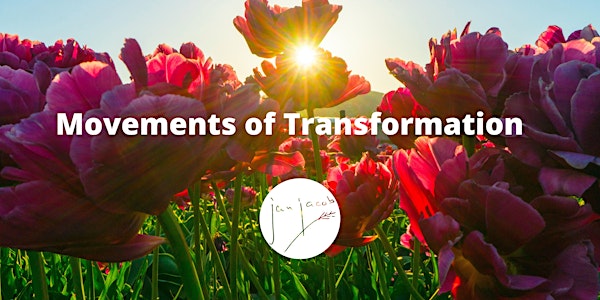 Movements of Transformation 2023 - registration
6-day Intensive with Jan Jacob Stam
Datum en tijd
wo. 14 jun. 2023 10:00 - di. 20 jun. 2023 17:00 CEST
Locatie
Middelberterweg 13A 13A Middelberterweg 9723 ET Groningen Netherlands
Beleid voor refunds
Neem contact op met de organisator om een restitutie aan te vragen.
Eventbrite-kosten zijn niet restitueerbaar.
Over dit evenement
Movements of Transformation
A six day intensive  | June 14 - 20, 2023 | Jan Jacob Stam 
Introduction 
Transformation is a process after which something fundamental has shifted in the identity of the person, family, organization or society. And you don't know into what this identity has shifted, until you have reached it or it has found you. That makes this process of transformation more an adventure then a journey. On a journey you know where you're heading, in an adventure you don't know where your will be next. 
During this intensive week you will be learning about transformation from a systemic perspective, you might be submerged in transformational processes yourself on the levels of transformation in society, in organizations or families and in human beings.
Learning about
What transforms naturally, can transform relatively smoothly. What transforms by will-power or any other motivating force, requires a lot of precision, holding space and leadership.
What ís transformation? 
How is it different from processes like development, change or transition and re-set.
Which types of interventions are required?
Which concepts and tools can I or can we apply? 
Where does transformation start? At the whole or at the parts?
How to deal with the fact that in transformation processes there is no 'dot on the horizon' to aim at?
Learning in a collective way
The world is not the same as one or two years ago. Transformation wants to be in many places and is rattling at our doors. Patterns are working hard to keep continuity alive and to keep transformation outside the door. We are all in these movements. We also will learn by being part of  these impulses. Ánd we will also learn in a collective way. 
Program
Since this program might be transformational itself, we can't give a detailed program from day to day. But the essence of transformation will at all times be in the room.
Ingredients:
14 lessons on transformation
Types of interventions 
Tools for transformation
Systemic diagnose
True art: the core of this training is 'interventionship': every participant is invited to practice ánd calibrate his or her potential in stepping into the unknown of bringing a system into a transformational state.
Designing Interventions
Cases, brought by participants. Personal, work-related, organizational or societal 
Horse coaching and other surprising forms.
How do we work?
We will meet each other as human beings, in our capacities as facilitators, coaches, consultants, leaders, members of social movements, searchers, adventurers and whoever we are. 
Typical is to first have an introduction into a topic and then practice, explore, reflect, feedforward and practice.... 
What is this not?
A training in constellations. Although we will use constellation forms for learning purposes, most or even all of systemic interventions are possible without having to use a constellation. 
What is required?
To have some experience with constellation work and a sense of 'wanting or having to be there'.
Being prepared to practice, to fail, to try again, to laugh, to be frustrated, to encounter fears and to harvest and find upgraded versions of yourself.
Practical
June 14 - 16 and 18 - 20, 2023.  June 17 is a day off.
Max 20 participants
Location: the Seven Linden, Groningen, the Netherlands 
Trainer: Jan Jacob Stam and guests
Organizer: janjacobstam
Price: €1500 free from VAT. Including lunches, coffee, tea, training material.
Questions?
Send an email to info@janjacobstam.nl
Register
Pay €100 at registration. You will receive an invoice for the total amount (minus your registration fee) later.