Evenementdetails
Locatie
De Kas, Nieuwe Herengracht 18, Stichting De Kwekerij
Nieuwe Herengracht 18
1018DP Amsterdam
Netherlands
Beleid voor refunds
Neem contact op met de organisator om een restitutie aan te vragen.
Eventbrite-kosten zijn niet restitueerbaar.
Beschrijving van het evenement
In today's world options are endless. You can be who you want to be, but do you give yourself the time to think about what you really want?
Over dit evenement
WORKSHOP | PURPOSE | LIFE CHOICES | CAREER ORIENTATION |
Growing up in today's world can be quite a challenge. On the one hand you can decide what you want to do and what you want to become. On the other the pandemic is making it harder and harder to put your purpose to work.
During your studies you acquire lots of knowledge, but no one asks you what you want to do with it. And many great ideas have been lost, because the people who had them could not stand being laughed at. So what is it you dream about?
According to Australian nurse Bronnie Ware, the biggest regret people have before dying is chasing other people's dreams. To what extent do you live up to the expectations of others and how much attention do you give your own dreams?
In this workshop we invite you to discover what you want in life and work. We do this with the help of meditation, visualization and creative working methods. This way we dive deeper into your desires, motivations and (un)conscious beliefs.
At the same time we critically reflect on today's tendency to always want more. Hence, we'll release the pressure.. Saying no might just be an effective way of coming to a more fulfilling way of leading your life. You will learn what drives you and whether this is the right driver for a fruitful future.
--
This is a flourishing class of De Kwekerij: an inspiring and interactive workshop where we discuss themes that go beyond daily practice. We offer inspiring theories from interdisciplinary sources, do creative exercises and share personal experiences.
De Kwekerij's activities are meant for all students and young professionals who want to flourish between the ages of 18-35, regardless of background, gender identity or sexual preferences. We work in small groups of up to 10 participants. Are you looking for new insights and would you like to learn together? Join us!
After purchasing your ticket, you will receive a link to the Zoom no later than 1 hour before the session.
*If the price forms a barrier, please contact us.
www.kwekerijamsterdam.nl / info@kwekerijamsterdam.nl
Check our corona policy.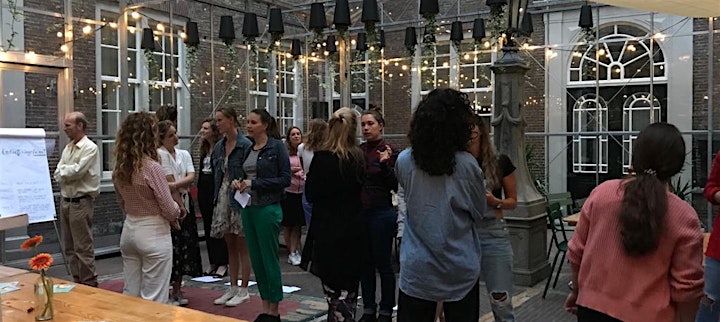 Datum en tijd
Locatie
De Kas, Nieuwe Herengracht 18, Stichting De Kwekerij
Nieuwe Herengracht 18
1018DP Amsterdam
Netherlands
Beleid voor refunds
Neem contact op met de organisator om een restitutie aan te vragen.
Eventbrite-kosten zijn niet restitueerbaar.