Evenementdetails
Locatie
Mirabeau - A Cognizant Digital Business
Paul van Vlissingenstraat 10C
1096 BK Amsterdam
Netherlands
Beschrijving van het evenement
Beschrijving
On Thursday 26 March Open Voice is back with the Enterprise Edition!
After almost a year and a half of voice services being available in The Netherlands it's time to move beyond the innovation theatre of MVPs and seriously integrate voice services with existing business processes. Enterprise enabled conversational services are client facing and backend connected. They are also multi platform and multilingual. Not just voice or speaker focused but connecting Interactive Voice Response (IVR) and chatbots as well. Maybe even integrated in your hardware like bikes, cars or window blinds. This means that it will be part of the continuous delivery train and solidly fitted in the enterprise architecture software stack. All smartly and agile organized within the current epic and with the multidisciplinary team. And of course part of the overall business strategy.
Want to learn about that?
Join and learn from those who do Enterprise enabled Conversational Services. Learn from their mistakes, lessons and insights.
Open Voice is a FREE event!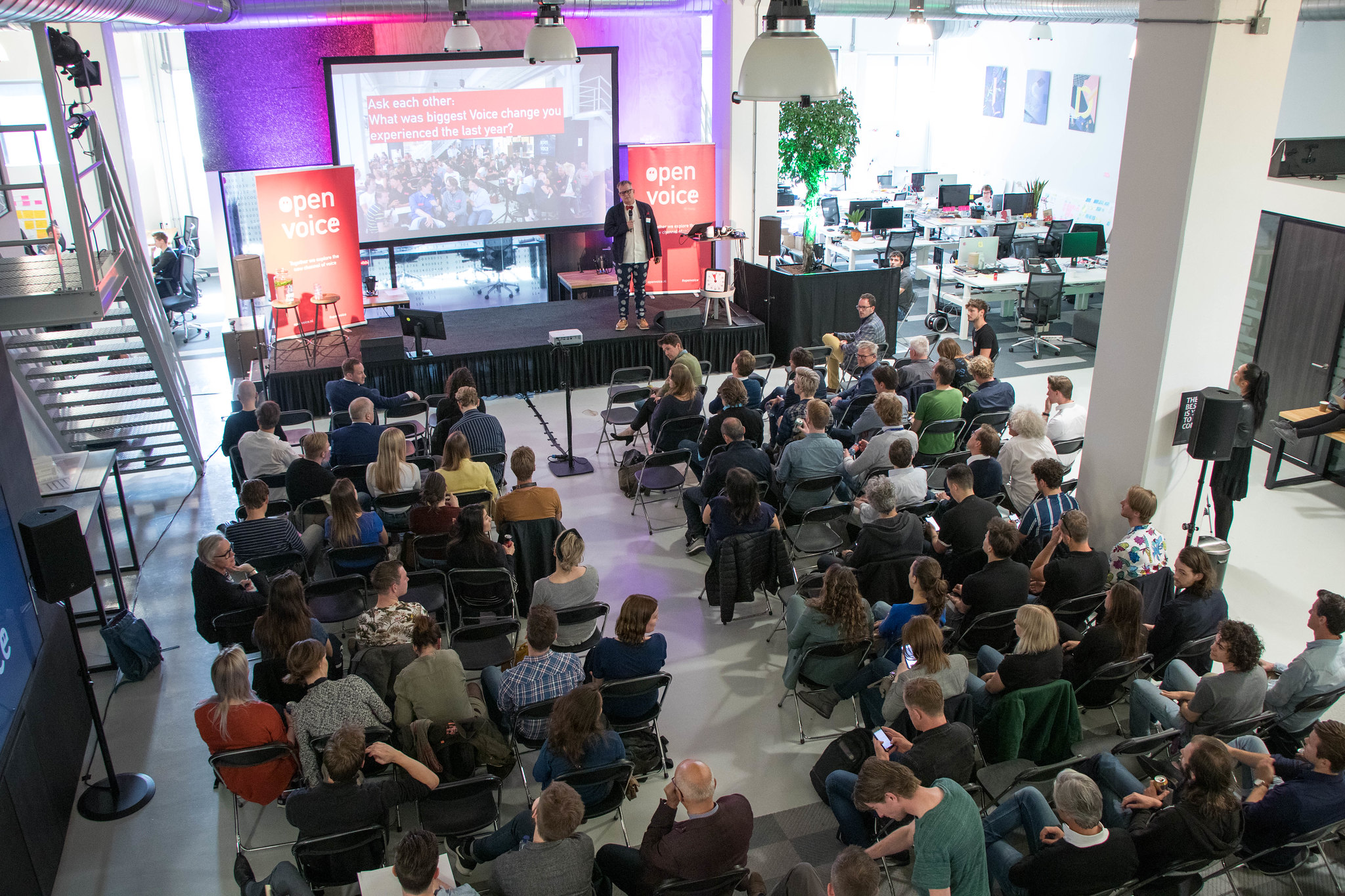 Speakers Open Voice #08

Updates to be shared. Please stay tuned!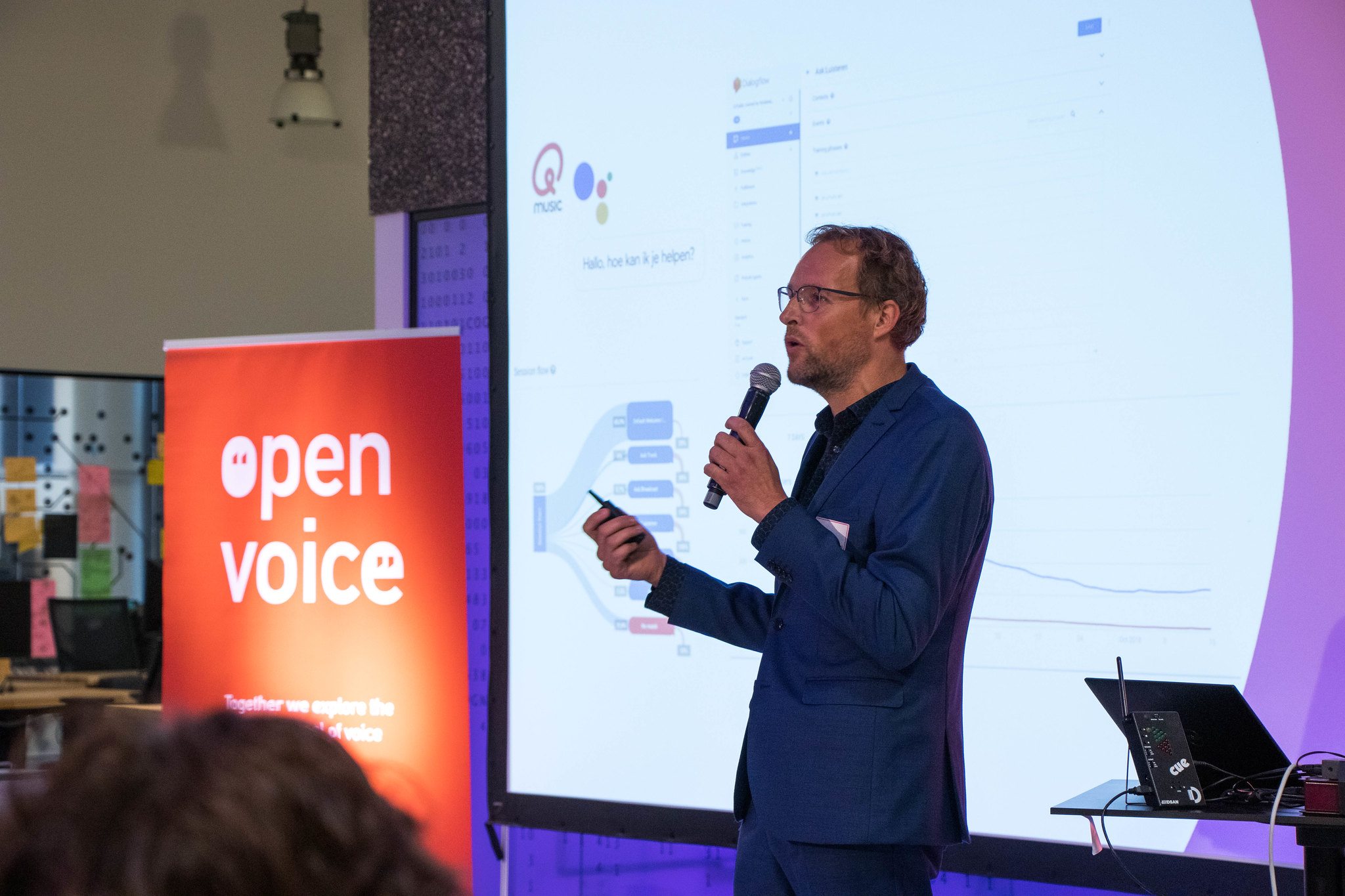 Photo: Iwan Reuvekamp / DPG Media (talking about QMusic and 'de Volkskrant' @ Open Voice #07).
Be the first to know who will speak at Open Voice#8 via the newsletter: https://openvoice.nl/newsletter or Twitter: https://twitter.com/_mirabeau
Think you can tell the Open Voice community about your enterprise experiences? Or do you know someone? Let us know!
Program
16:00 - 16:30 Doors open to grab some drinks
16:30 - 17.30 Presentations
17.30 - 18.00 Break with drinks & bites
18.00 - 19:00 More presentations
19:00 - 20.00 Networking with drinks & bites

Open Voice: A free meetup by the community
Today over 3 billion voice enabled smart speakers, phones and computers are used all over the world. All gearing up to completely disrupt the way customers experience brands and interact with products and services.
At Open Voice we will explore why voice is a channel to invest in as well as how to approach and do it. Together we explore the channel of voice, share insights and learnings, see how voice and conversations fit into the customer journey and kick-start projects.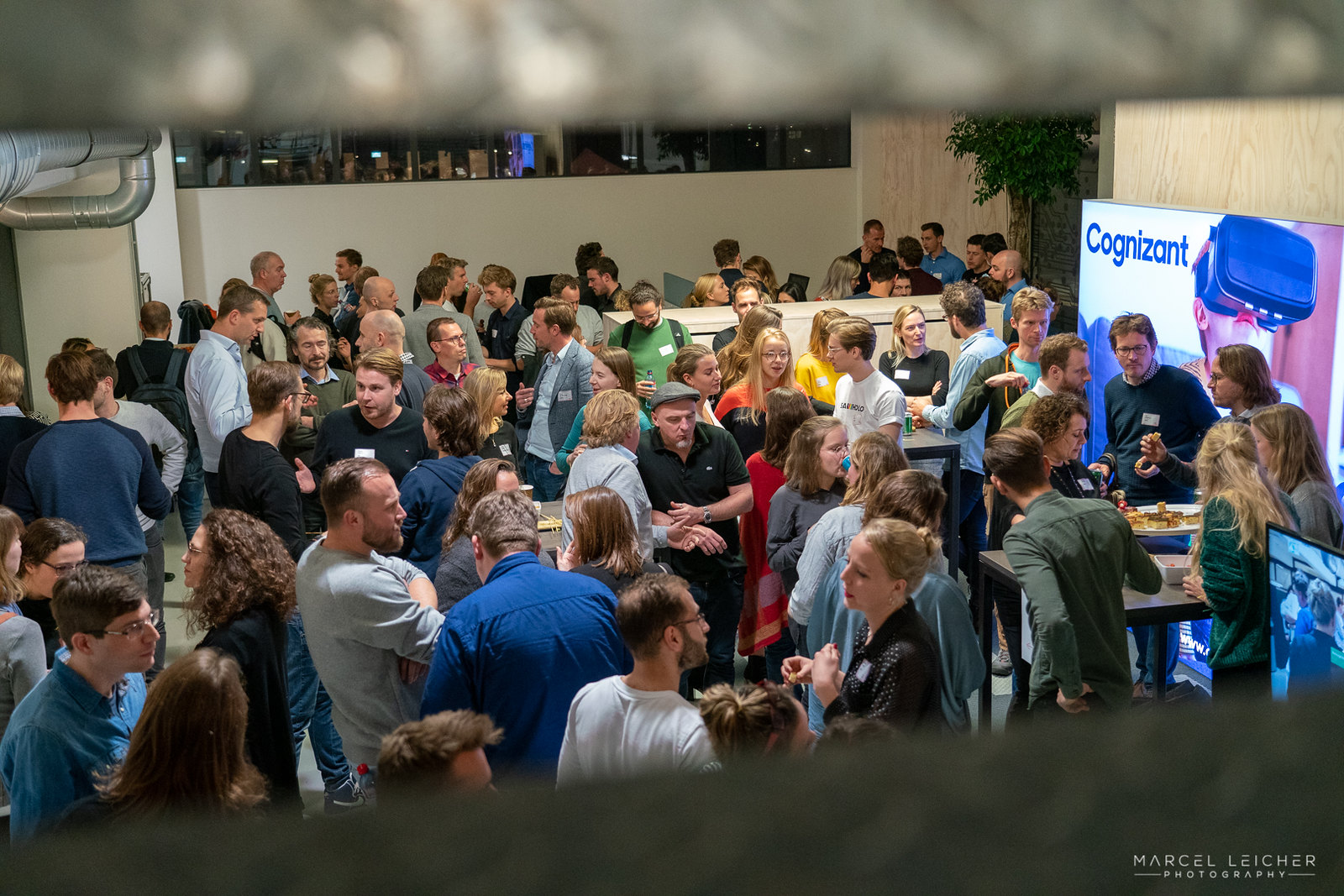 More photo impressions on flickr, or check one of our aftermovies.
Location
The event is hosted at the office of Mirabeau - A Cognizant Digital Business at the Kauwgomballenfabriek in Amsterdam. There is enough (paid) parking space, and excellent public transport connections (Metro OverAmstel or Spaklerweg).

Founders
Innovation and Meetup veterans Maarten Lens-FitzGerald, Hayo Rubingh (Mirabeau), Sam Warnaars (Merkle) and Marna van Hal are founders of Open Voice, a series of interactive meetups.
More information
maarten@openvoice.nl, 06 - 4633 3308
Organization edition #08
Datum en tijd
Locatie
Mirabeau - A Cognizant Digital Business
Paul van Vlissingenstraat 10C
1096 BK Amsterdam
Netherlands