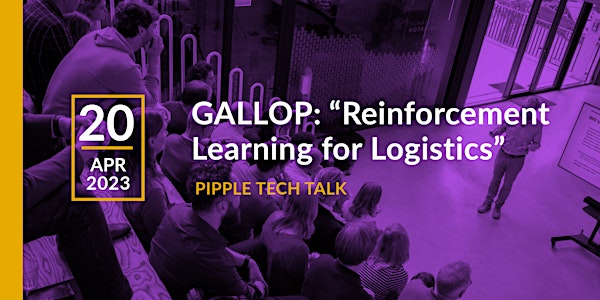 Pipple Tech Talk | GALLOP: Reinforcement Learning for Logistics
Pipple Tech Talk | GALLOP: "Reinforcement Learning for Logistics"
Datum en tijd
do. 20 apr. 2023 17:00 - 19:30 CEST
Locatie
Pipple B.V. 36B Gashouder 5613 CR Eindhoven Netherlands
Over dit evenement
2 uren 30 minuten

eTicket voor mobiel
Story
In a rapidly evolving logistics domain, the role of e-commerce has been growing exponentially over the past years. To keep up with the demands of this fast-paced environment, efficient decision-making is essential. With its worth already proven in complex gaming environments, Reinforcement Learning (RL) might provide an alternative solution to this complex logistics puzzle. But a warehouse is no game of chess, so how can we enable RL to fully grasp its immense complexity?
Info
During the past year, a team of Pipple Data Scientists has been working on developing GALLOP; a platform that aims to harness the power of RL to optimize logistics operations. We will demonstrate how we tackled common RL-challenges, such as the usage of historic data, or making optimal policy choices given an enormous and decentralised range of possibilities. GALLOP was designed to enable data scientists to better manage these challenges, and to train a model for any type of logistic decision-making problem.
Name Lennart van Ham, Jerom van der Zande & ChatGPT
Program
17:00 | Doors open & Pizza
18:00 | Start Talk
19:00 | Demonstration
19:30 | Closing & Drinks