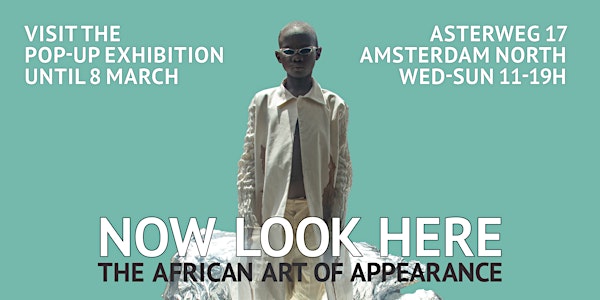 Pop-Up Exhibition | NOW LOOK HERE - The African Art of Appearance
Locatie
Asterweg 17
17 Asterweg
1031 HL Amsterdam
Netherlands
Restitutiebeleid
Neem contact op met de organisator om een restitutie aan te vragen.
Eventbrite-kosten zijn niet restitueerbaar.
Pop-Up Exhibition | NOW LOOK HERE - The African Art of Appearance.
Over dit evenement
Pop-up exhibition NOW LOOK HERE – The African Art of Appearance in Amsterdam North presents the work of 18 African artists who use outward appearances to tell a deeply rooted story. They upend perceptions of Africa through the use of irony, beauty and style.
Beyond the image
This group exhibition showcases the work of 18 African artists whose work at first glance stands out for its attention to outward appearance: everything is colourful, radiant, smooth, and aesthetic. On closer inspection, the seductive surface proves to be a lure that draws visitors into a deeper story, in which perspectives are reversed: white becomes black, stigma becomes beauty, a skivvy turns out to be a high priestess, and apparent footnotes to history are revealed as prominent figures.
Taking charge
The works address, directly or indirectly, the historical abuses and current troubles that dominate the media image of Africa. But the artists take charge of this image, and in doing so, set a completely different tone. What connects the photos, videos and performances in NOW LOOK HERE is a superior game of clichés and prejudices, in which humour, beauty and optimism challenge daily reality.