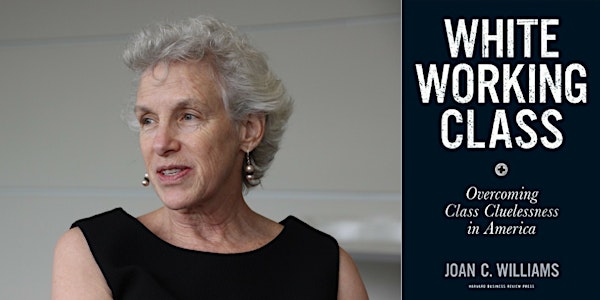 Professor Joan C. Williams: White Working Class: Overcoming Class Cluelessn...
Locatie
The American Book Center
23 Lange Poten
2511 CM Den Haag
Netherlands
Beschrijving
Distinguished Professor of Law Joan C. Williams explains how the term "working class" has been misapplied--it is, in fact, the elusive, purportedly disappearing middle class.
Around the world, populist movements are gaining traction among the white working class. Meanwhile, members of the professional elite—journalists, managers, and establishment politicians—are on the outside looking in, left to argue over the reasons. In White Working Class, Joan C. Williams, described as having "something approaching rock star status" by the New York Times, explains why so much of the elite's analysis of the white working class is misguided, rooted in class cluelessness.
Williams explains that many people have conflated "working class" with "poor"—but the working class is, in fact, the elusive, purportedly disappearing middle class. They often resent the poor and the professionals alike. But they don't resent the truly rich, nor are they particularly bothered by income inequality. Their dream is not to join the upper middle class, with its different culture, but to stay true to their own values in their own communities—just with more money. While white working-class motivations are often dismissed as racist or xenophobic, Williams shows that they have their own class consciousness.
White Working Class is a blunt, bracing narrative that sketches a nuanced portrait of millions of people who have proven to be a potent political force. For anyone stunned by the rise of populist, nationalist movements, wondering why so many would seemingly vote against their own economic interests, or simply feeling like a stranger in their own country, White Working Class will be a convincing primer on how to connect with a crucial set of workers—and voters.
BIOGRAPHY
Joan C. Williams has played a central role in reshaping the debates over women's advancement for the past quarter-century. Described as having "something approaching rock star status" by The New York Times, Williams was awarded the American Bar Foundation's Outstanding Scholar Award (2012), the Elizabeth Hurlock Beckman Award (2012),the ABA's Margaret Brent Award for Women Lawyers of Achievement (2006), and the Gustavus Myers Outstanding Book Award for Unbending Gender: Why Family and Work Conflict and What to Do About It (Oxford University Press, 2000). In recognition of her interdisciplinary work, Williams gave the 2008 Massey Lectures in American Civilization at Harvard University, delivered in prior years by (among others) Eudora Welty, Gore Vidal and Toni Morrison.
As Founding Director of WorkLife Law (WLL), Williams has played a leading role in documenting workplace bias against mothers, leading to the Equal Employment Opportunity Commission's 2007 Guidance on Caregiver Discrimination. Her article "Beyond the Maternal Wall: Relief for Family Caregivers Who Are Discriminated Against on the Job," 26 Harvard Women's Law Review 77 (2003)(co-authored with Nancy Segal), was prominently cited in the landmark case, Back v. Hastings on Hudson Union Free School District, 365 F.3d 107 (2d Cir. 2004). Williams has organized social scientists to document workplace bias against mothers, notably in a 2004 special issue of the Journal of Social Issues titled "The Maternal Wall" (co-edited with Monica Biernat and Faye Crosby), which received the Distinguished Publication Award of the Association for Women in Psychology.
Williams also has played a central role in documenting how work-family conflict affects working-class families, through reports such as "One Sick Child Away From Being Fired" (2006), "Three Faces of Work-Family Conflict" (2010) (co-authored by Heather Boushey of the Center for American Progress), and "Improving Work-Life Fit in Hourly Jobs" (2011). Williams' current research focuses on how work-family conflict differs at different class locations; on the "culture wars" as class conflict; on how gender bias differs by race; and on the role of gender pressures on men in creating work-family conflict and gender inequality.