Dit evenement is afgelopen.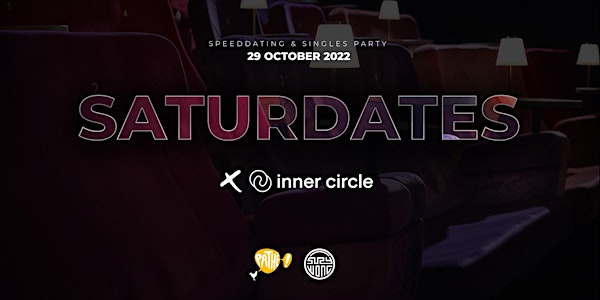 SATURDATES X INNER CIRCLE l Party for singles in Amsterdam
Are you single and ready to mingle? Come join our speed dating event, singles-only party + DJ, drinks, chats and above all; fun!
Waar en wanneer
Locatie
Pathé City 15-19 Kleine-Gartmanplantsoen 1017 RP Amsterdam Netherlands
Kaart en routebeschrijving
Beleid voor refunds
Neem contact op met de organisator om een restitutie aan te vragen.
Eventbrite-kosten zijn niet restitueerbaar.
Over dit evenement
Rendez-view at the movies!
After a second sold out edition, Inner Circle and Saturdates join forces again to treat you to the best singles night in town. Join us at Pathé City Cinema for a night trip to dating wonderland. Kick back, relax and unwind amongst 250 like-minded singles at this glamorous and one of a kind speed date location.
Think of it as the ultimate dating experience: there'll be crafted cocktails, conversations with strangers and intimate vibes - the perfect backdrop for romantic encounters.
And icing on the cake (or butter on the popcorn, we'll leave it up to you), there'll be a singles-only party at Suzy Wong cocktail club.
What's the plan? You decide…
💘 SPEED DATING
Meeting face to face is the name of the game here.
Twelve singles, 4 minutes each, make your bets... We'll also have some daring question games designed to break the ice (not the hearts). Let's warm up those love seats!
🍣🍕SUSHI & PIZZA
But why not make a feast of it and treat yourself to Sushi & Pizza in between the Speeddate and the Party.
Options are 12 pcs of Sushi + a Pizza slice (Margeritha, Pepperoni or Vegan)
*The Sushi & Pizza ticket does not include speed dating + party
💃🏻🕺🏽 PARTY TIME AT SUZY WONG
Can't join speed dating? We've got your back! From 8.30pm, we'll be kicking the after-party up a notch. Come along to boogie down with like-minded singles, sip on tailored cocktails and dance the night away as our DJ spins the hits until late.
MIX & MATCH YOUR PARTY
- Get your solo ticket or bring a single friend along with the speed dating duo ticket.
- The speed dating ticket automatically includes the party ticket.
- You also have the option to buy a party-only ticket
Speed dating: 4pm to 8 pm
Party: 8.30pm to 02.00am
Age range: 20 - 39 years old
Languages: English & Dutch
DJ: Afro, Pop, Urban & House
------------------------------------
TICKETS
EARLY BIRD
PARTY TICKET €10 l SOLD OUT
SPEED DATING + PARTY [SOLO] €15 l SOLD OUT
SPEED DATING + PARTY [DUO] €27,50 l SOLD OUT
SUSHI & PIZZA €25,00 l NOW AVAILABLE
REGULAR
PARTY TICKET €12,50 l SOLD OUT
SPEED DATING + PARTY [SOLO] €20 l AVAILABLE
SPEED DATING + PARTY [DUO] €37,50 l AVAILABLE
SUSHI & PIZZA €27,50 l SOON AVAILABLE
LAST MINUTE
PARTY TICKET €15 l AVAILABLE
SPEED DATING + PARTY [SOLO] €25 l SOON AVAILABLE
SPEED DATING + PARTY [DUO] €47,50 l SOON AVAILABLE
SUSHI & PIZZA €30,00 l SOON AVAILABLE
Tickets are non-refundable
------------------------------------
FAQ
​​1. How does speed dating work? First you will receive your match card with the names of all the singles. The ladies will get a fixed seat, while the men change tables each round. Each round will take 4 minutes and you will meet between 10 - 15 people during the speed date. If you have a good connection with somebody after 4 minutes and you would like to match with that person you can leave a mark behind the person's name. After the speeddate, you can still mingle around at the party and add names to your match card. Before leaving, you may leave your card in the Box at the entrance, so that we can send you your matches. Within 72 hours after the event you will receive your matches (+ email addresses) of the persons you match with. The rest of the magic is up to you! :)
2. When will I get the result of my speed date?
Speed date matches will be notified via email within 72 hours with whom they can schedule their date.
3. Can I join the whole day? Yes! In the speeddate ticket the party is always included. This is the perfect opportunity to meet the singles you haven't spoken with yet after the speed date.
4. Will there be a registration for the speed date? Yes, we make a selection of the participants to balance the amount of women and men. That's why you will be asked to fill in your contact details with your confirmation email.
Before the event, you will receive an email confirming whether you are selected or not.
If you are not selected; you will be offered to use your ticket for the selection for the next speed date event or any of the SATURDATES events within three months (no refund). If you are selected; you will receive all the details to prepare yourself for the speed date and singles-only Party.
5. Is there an age category? Yes! We focus on singles between 20 and 39 years.
Access will be denied to people who are not within this age group. Always bring your ID to the event, this will be checked upon entrance. When purchasing a SATURDATES ticket, you apply to our terms & agreement, and confirm you're within the age group of 20 - 39 years. Tickets are non-refundable.
You can find more FAQ'S HERE
------------------------------------
Refund policy
1. In case you're not selected for the Speed Date this time, you will be offered to use your ticket for the selection for the next Speed Date event or any of the SATURDATES events within 3 months (no refund).
2. Ticket swap is not allowed (also not with DUO tickets)
3. No show is no refund in any form