Evenementgegevens
Locatie
The Hague Security Delta
Wilhelmina van Pruisenweg 104
2595 AN Den Haag
Netherlands
Beschrijving van het evenement
Beschrijving
TADHack is the only global meeting place for people (hackers, hustlers and hipsters: developers, business-types, and designers) who want to learn, share, code and create using the tools and technologies available in telecommunications.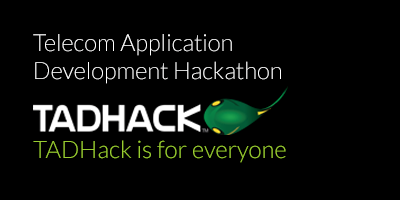 TADHack Global 2017 will run across 30+ cities around the world. Locations will run on one of two weekends at the end of September. To win prizes is simple: create hacks using the global sponsors' resources. We also have some development themes this year to encourage hacks in particular topics, such as BOTs, machine learning, IoT, Enterprise Communications, edge computing, decentralized web, and open source contributions.
Last year we had 3,000 registrations resulting in 208 impressive hacks being created. It's not just telecom focused sponsors, others realise the importance of programmable telecoms to their business.
Why go?
Whether you are a developer, an enterprise, a vendor or a non-coder, TADHack is here to help you…

Get educated on the power of telecom app development – no coding skills necessary to attend!

Listen to expert speakers and share best practices

Create hacks (prototypes) using telecom technologies to solve local or global problems that matter to you

Get your innovative service / platform / idea promoted and presented to the global industry

Meet the global community of telecom app innovators

Learn about the APIs, WebRTC, communications service platforms, cloud communications, decentralized / distributed web, and many other web- and IT-centric service platforms
Info and sites
You can also see what we achieved at TADHack-mini Orlando this year, just before Enterprise Connect:
And this weblog provides a more general explanation of TADHack and its benefits:
We have recorded and published past pitches from different events on the TADHack YouTube channel:
Here is the TADHack Global website:
https://tadhack.com/2017/global/
For The Netherlands the TADHack The Hague page can be found at:
https://tadhack.com/2017/global/tadhack-the-hague/
Theme TADHack Global 2017
Theme of the TADHack Global 2017 is to realize ideas from non-profit en charity organizations; organizations that care about our fellow human beings and promote the cohesion among groups in certain areas of our society. For instance healthcare institutions or connecting and reinforcing groups of people. In short, applying communication technology to connect people even faster and better than before.
Our challenges can be found at:
https://www.meetup.com/TADHack-Global-2017-The-Netherlands/pages/23573688/Theme_and_challenges_TADHack_2017_%28English%29
TADHack is for Everyone!
Whether you're a hacker, hustler or hipster (developer, business-type or designer); TADHack is for Everyone! Enter as an individual or as a team, either is fine. You'll learn about adding programmable telecoms to your apps, services or business; be able to share your experiences with others; do some "coding"; and potentially create a winning hack that makes a difference in your community. Oh, and don't forget about the awesome food and prizes.
And it's FREE
It's suitable for all - students, professionals, startups and enterprises.
More details
For more details, go to the TADHack site: https://www.tadhack.com
Datum en tijd
Locatie
The Hague Security Delta
Wilhelmina van Pruisenweg 104
2595 AN Den Haag
Netherlands