Dit evenement is afgelopen.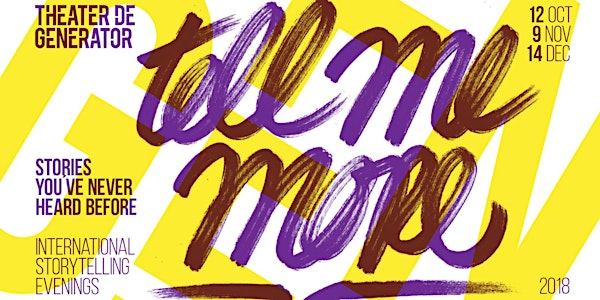 Waar en wanneer
Locatie
Theater de Generator 36 Middelstegracht 2312 TX Leiden Netherlands
Kaart en routebeschrijving
Beleid voor refunds
Neem contact op met de organisator om een restitutie aan te vragen.
Beschrijving
Tell me more…! - STRONG WOMEN
Location: Theater en Productiehuis De Generator, Middelstegracht 36, Leiden
This second International Storytelling Evening is all about: "Strong Women". Stories told by professional, experienced storytellers with different backgrounds will share with you their stories. The evening is in English. Get yourself a bite or a drink (included in ticket price) and let yourself into this new world of stories.
Storytellers
Francine de Graaf, born and raised in Scheveningen, is going to share with us a personal story about the sea, life and her grandmother. Sandra Kramerova is going to perform LADIA, a solo dance fight inspired by female "superheroes" Lara Croft and Nadia Comaneci. The solo explores boundaries. Alexandra Sips is going to tell us a Cinderella story that pretty sure you never heard before. The raw, olderst version of the story, without sugar coating, will make you wonder about the resilience of a woman. And Xi Zeng's story is about a Chinese female warrior. And she was not just a warrior, she fought even when she was 100 years old !
Organisor of the evening: Oriana van der Sande