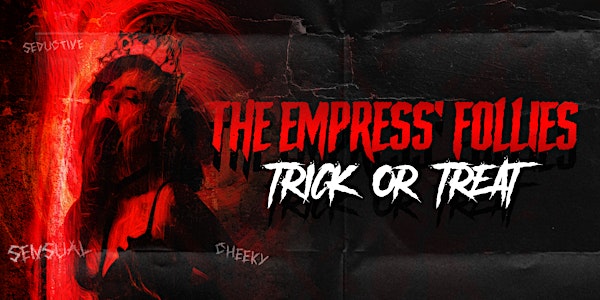 The Empress' Follies: Trick or Treat
A haunting burlesque experience
Waar en wanneer
Locatie
LAB-1 Keizersgracht 19 5611 GC Eindhoven Netherlands
Kaart en routebeschrijving
Beleid voor refunds
Neem contact op met de organisator om een restitutie aan te vragen.
Eventbrite-kosten zijn niet restitueerbaar.
Over dit evenement
𝐖𝐄𝐋𝐂𝐎𝐌𝐄 𝐁𝐀𝐂𝐊 🖤
Prepare to be bewitched by the most enticing burlesque event Eindhoven has to offer ✨️ with performers and ghouls from all over Europe we asure you a night that will haunt your dreams forever in the best way possible. 😏
After 3 succesful shows The Empress' Follies introduces a special sweet yet spooky night out to start the season right. So don't dust off those spiderwebs, buy some fangs and get your costumes ready for Trick or Treat
𝐋𝐈𝐍𝐄𝐔𝐏 💃
Sparkling Spitfire (IRE)
Bunny de Lish (PL)
Dame Diamond Cobra (NL)
Lady AnnMart (PL)
Miss Vanity Love (NL/BRA)
Eve Fatale (NL)
Miss Judgement (NL)
Faya Roja (NL)
Miss Biba Belula (NL)
𝐖𝐓𝐅 𝐈𝐒 𝐁𝐔𝐑𝐋𝐄𝐒𝐐𝐔𝐄⁉️
Burlesque is all about the art of the tease, being sexy and confidence. Artists within burlesque create spicy, edgy, funny and astounding acts in which they engage (some might say flirt) with the audience. A-list entertainment guaranteed.
Let others know you are joining us! Facebook event via: https://fb.me/e/2RxPndxlR
Photos made by Willem Wouterse
Performers: Candygirls Maartje and Inès, Faya Roja, Miss Vanity Love and Miss Biba Belula
Banner photo by Eline den Hond, design Sem Donkers