Dit evenement is afgelopen.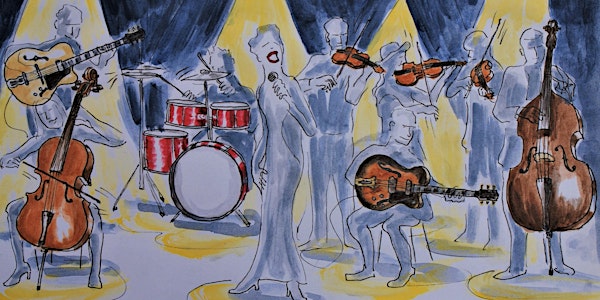 The Music of Ellington and Strayhorn for jazz chamber ensemble
Waar en wanneer
Locatie
Koorenhuis Prinsegracht 27 2512 EW Den Haag Netherlands
Kaart en routebeschrijving
Beleid voor refunds
Geen refunds
Beschrijving
Daniel Slaman Guitars Concert
The Music of Ellington and Strayhorn for jazz chamber ensemble
By the Axel Hagen-Olaf Tarenskeen Quartet featuring Sanna van Vliet & the Alberti String Quartet
An evening with the music of Duke Ellington and Billy Strayhorn, arranged by Axel Hagen for a 9 musicians ensemble including 2 guitars and the Alberti String Quartet.
The term 'chamber jazz' describes a group of people, utilizing 'modern' and 'classical' instruments as well as the human voice, playing within a small ensemble of soulful, knowledgeable musicians in a primarily acoustic setting.
Does that make you curious? Join us on this special occasion on
Friday 20th September 2019, Koorenhuis, Prinsegracht 27, Den Haag, The Netherlands,
20.00 pm
Musicians:
Sanna van Vliet - Vocals
Axel Hagen - Guitar,arrangements
Olaf Tarenskeen - Guitar
Joan Terol Amigo - Drums
Thomas W.Andersen - Bass
and the Alberti String-Quartet:
Víctor Flores - Violin
Ángela Moya - Violin
Estela Briceño - Viola
Cèlia Torres – Cello
Illustration by Derek Welbergen
Veelgestelde vragen
Wat zijn de vervoers-/parkeermogelijkheden voor het evenement?
Betaald parkeren in de Q-Park City Parking. Laan, Den Haag op 3 minuten loopafstand. Openbaar vervoer lijn 3, 4, 6 halte Brouwersgracht schuin tegenover Koorenhuis, 1 minuut loopafstand

Zijn er zitplaatsen voor alle bezoekers?
Ja, vrije zitkeuze

Hoe laat gaat de zaal open?
Het Koorenhuis is de hele dag geopend, er is ook de mogelijkheid om voorafgaand aan het concert een hapje te eten
Moet ik mijn ticket afgedrukt meenemen?
Ja
Is het goed als de naam op mijn ticket of registratie niet overeenkomt met die van de bezoeker?
Ja, toegang op vertoon van ticket