Evenementdetails
Locatie
Rotterdam
Stationsplein 45
A1.208
3013 AK Rotterdam
Netherlands
Beschrijving van het evenement
Beschrijving
If you ever experienced someone explain a complex topic with a simple drawing or diagram, you intuitively know the power of visual thinking. It's a powerful tool to share and develop your thoughts and ideas, but somehow people rarely use it when interacting with their colleagues.
In an one day training we teach you the essentials to make the leap forward to use drawing in your professional context. We help you tap into the skills you already have and teach you tools and tricks to take your drawings to the next level. Enter the world of visual thinking!
Who should attend?
For everyone who works together, in teams, with colleagues or clients. For researchers, speakers, content developers, engineers, coaches and consultants.
What will the training look like?
9:00 - 12:30 In the morning we'll teach you to build your own visual vocabulary, the very basics of applying simple drawings in a professional context.
13:30 - 16:30 After lunch, we'll dive into sturcturing information, communication and storytelling to end with your own hand-drawn flip-over presentation of your own case.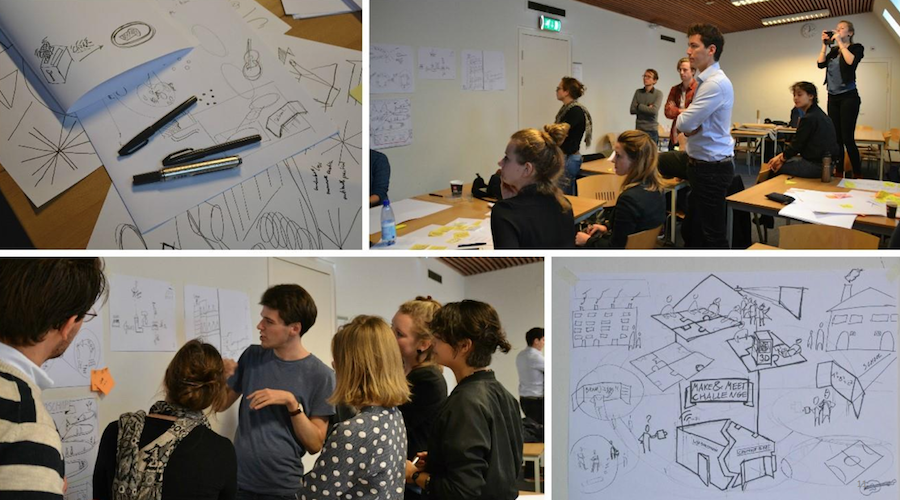 What you will learn
You'll be confident to draw.

You'll be able to visually map you plans, thoughts or ideas.

You'll be able to use drawings to tell engaging and convincing stories

Making your visual plans, thoughts or ideas receiving better feedback

Your visual thinking will help to create a shared vision, together with your colleagues, clients or other stakeholders.
Your trainers

We are Flatland, in the Netherlands a.k.a. Jongens van de Tekeningen. A rich mix of analytic creative designers with lots of visual thinking experiences. We guide people and their companies with our visual thinking tools through dynamic transitions or complex stories. Our cause for the training is to help you to use the visual thinking tools for yourself, in order to reach better understanding and more joy in your professional work.
The training will be guided by two of our experienced design consultants.
Practical Information
Full day training (9:00-16:30), including materials, lunch and drinks

Location: the courses are given at our office directly next to Rotterdam Central Station (Groothandelsgebouw).
Language Dutch or English (as long as we only have dutch participants we'll perform in Dutch)

Fee: €695 for early-birds or €895 regular excluding VAT (21%) (Prices on the Eventbrite platform include V.A.T.)

It is also possible to get an invoice to be paid by your employer, just send us an e-mail and we'll take care of the rest.

For groups (>8) we offer in-company workshops and Visual & Design Thinking Programs.

Want to know more?
Please contact Thomas (tvd@flatland.agency) or Niva (niva@flatland.agency) or have a look at our website https://flatland.agency/en/services/flatland-academy-for-visual-thinking/.
Datum en tijd
Locatie
Rotterdam
Stationsplein 45
A1.208
3013 AK Rotterdam
Netherlands