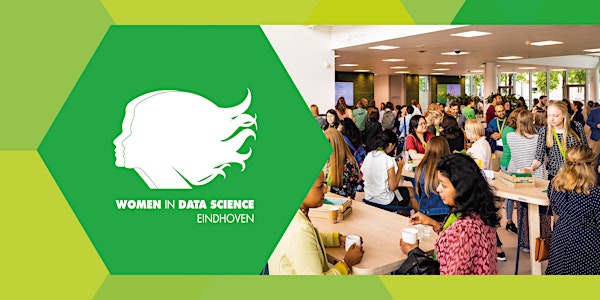 Women in Data Science Eindhoven 2023 | AI for the real world
Women in Data Science Eindhoven 2023: AI for the real world A conference on diversity, inclusion and empowerment.
Datum en tijd
ma. 27 mrt. 2023 09:30 - 18:00 CEST
Locatie
Conference Center High Tech Campus High Tech Campus 1 The Strip 5656 AE Eindhoven Netherlands
Over dit evenement
8 uren 30 minuten

eTicket voor mobiel
Artificial Intelligence (AI) is making a meteoric rise in our daily lives. The Women in Data Science Eindhoven conference explores the social impact of AI in general and the scientific influence of women on AI in particular. The 2023 edition, on March 27 at the High Tech Campus Eindhoven, will focus on 'AI for the real world', with an emphasis on medical technology, high-tech and mobility.
The program features leading speakers such as Dr. Tina Manoharan (VP, Global head of AI & Digital Innovation at Philips) and Dr. Ir. Sofie Haesaert (Assistant professor, electrical engineering department, Eindhoven University of Technology), who will give their views on AI for the real world. With these and other inspiring participants, Women in Data Science (WiDS) Eindhoven promises to be an inspiring conference. The location, in the heart of high-tech hotspot Brainport Eindhoven, is pre-eminently the place to bring data scientists and data practitioners together.
WiDS worldwide
WiDS Eindhoven is an independent conference. It coincides with the annual Global WiDS conference at Stanford University and has 200+ related venues worldwide. WiDS aims to inspire and educate students, professionals and academics (all genders) by sharing stories of women doing leading work in data science.
WiDS Eindhoven
WiDS Eindhoven 2023 is organized by: Eindhoven University of Technology (TU/e), Eindhoven Artificial Intelligence Systems Institute (EAISI), Tilburg University, Provincie Brabant, Fontys University of Applied Sciences, Jheronimus Academy of Data Science (JADS), and Pipple.
Diversity and inclusion
WiDS is about diversity and inclusion. About empowering people by appreciating what makes them different. This year we WiDS will focus on 'AI for the real world.' Dr. Tina Manoharan, VP, Global Head of AI & Digital Innovation – Philips and keynote speaker at WiDS Eindhoven 2023 explains: "AI is going to shape all of what we do but we must take our ethical responsibilities more seriously. Humans and AI form a symbiotic relationship: we shape AI, AI will augment us. We need to solve bias by making sure that women are contributing to the data and ensuring that the entire gender spectrum is represented in these technologies. It is important for developers to be aware of these biases at every stage of the development of AI and to be actively testing and checking for it."
Register
Participation in WiDS Eindhoven 2023 is free of charge. You can register now on the website: www.wids.nl.
Philips has committed to this event as the main sponsor. In addition to Philips, CZ and High Tech Campus heartedly support the event.
*Please note that Women in Data Science Eindhoven will be taking photos and videos during the Women in Data Science Eindhoven conference on March 27. These images will be used by Women in Data Science Netherlands to share news about the conference, and to publicise our future conferences. Images may be used in press releases, online campaigns, printed publicity and published on Women in Data Science Netherlands LinkedIn Page. The photos and videos will be stored securely into our database. If you would prefer not to be photographed, please e-mail wids2023@pipple.nl before entering the event on March 27, 2023. If you would like to see your images, or would like us to delete them, please email wids2023@pipple.nl