Dit evenement is afgelopen.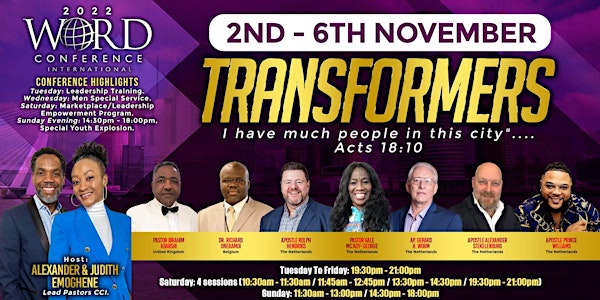 Word Conference 2022: Transformers (Session 1 & 2)
The Word Conference is an event organized by Claypot Church International; this annual event has touched countless lives over the years.
Waar en wanneer
Locatie
Claypot Church International 2 Spoorlaan 2908 BG Capelle aan den IJssel Netherlands
Kaart en routebeschrijving
Over dit evenement
This year's theme is Transformers. Expect the supernatural and a time of refreshment in the presence of God.
You are welcome for a blessed days of prophetic words about your health, family, finances, your marketplace ministry, and accomplishing your mission in God.
On this day, will be 3 sessions:
10.30am - 12.45am
13.30pm - 14.30pm
19.30pm - 21.00pm
Session 1:
Meet one of our guest speakers at the Word Conference 2022
Pastor Alexander Emoghene is a ordained Pastor, with the primary gift of an apostle, and a teacher anointed to minister to the body of Christ with the message of the kingdom.
He is the founder and lead pastor at Claypot Church International and is the spiritual father to many worldwide. He is a pioneering missionary to countries such as Malawi, Ugandan, The Netherlands, Curacao, Belgium, the United Kingdom and the US.
He is anointed to empower and equip the body of Christ to embrace their assignment in the marketplace with powerful expository and apostolic teaching that highlights the divine necessity for economic empowerment of the saints.
He has been the author of several practical and inspiring books, and when he is not writing, he impacts many lives as a keynote speaker at leadership and entrepreneurial forums, thinks tanks, and conferences. He has an impactful and dynamic teaching style, preaching, and worship for the empowerment the body of Christ.
He is married to Judith Emoghene, whom both reside in The Netherlands.
One of his favourite quotes:
"Leadership is the art of inspiring courage toward a positive change" Alexander Emoghene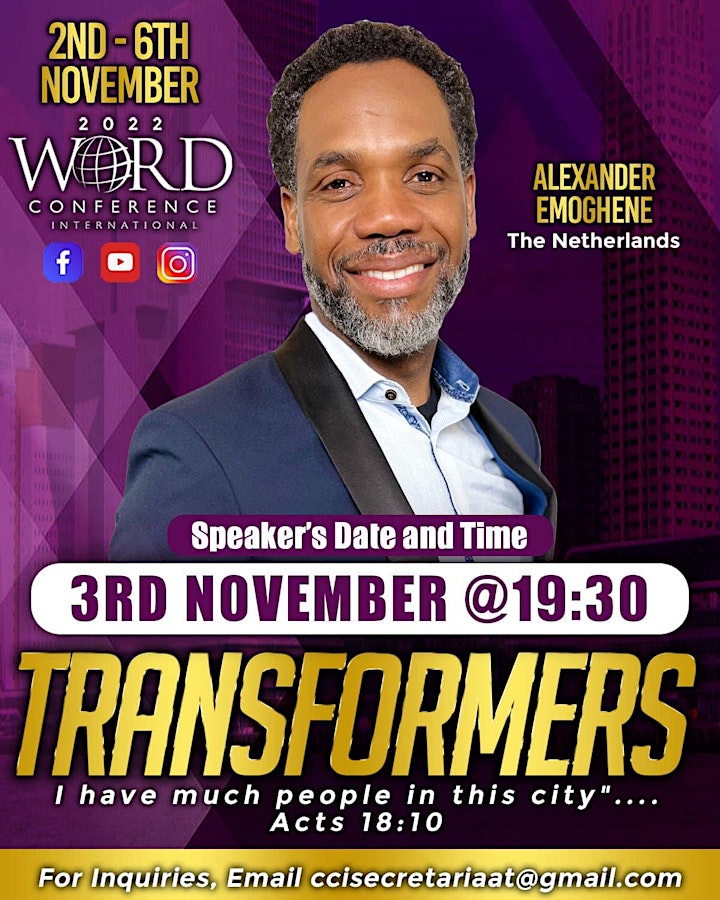 Session 2:
Meet one of our other guest speakers at the Word Conference 2022
At the age of 17 apostle Gerard H. Worm started preaching in youth meetings and prisons in the Netherlands and Italy. After a while apostle Gerard and his wife went to Maranatha Ministries in Amsterdam and he started ministering as a pastor in the Arnhem branch at the age of 17. In that period they were also part of organizing conferences for Benny Hinn and many other ministers.
Nowadays apostle Gerard is responsible for 6 churches in the Netherlands, 2 in Surinam, 1 in India, 1 in Zambia and 1 in Ethiopia. Apostle Gerard is also a writer.
His books are mainly apostolic or about leadership.
The last 4 years apostle Gerard has been hosting DNA, a leadership conference which is organized 2 times a year.
Apostle Gerard has been married for 43 years. He has 2 children and 7 grandchildren.