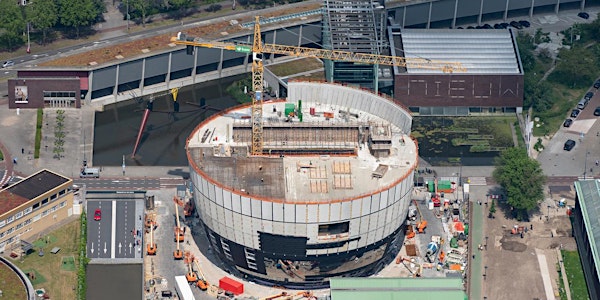 TNL! In the Works: MVRDVHNI The Living Archive of a Studio
Take a peek behind the scenes of the upcoming exhibition MVRDVHNI in the latest edition of TNL! In the Works.
Date and time
Thursday, September 16, 2021 · 10:30am - 12pm PDT
About this event
In this run-up to the exhibition MVRDVHNI The Living Archive of a Studio, team members of Het Nieuwe Instituut will talk to MVRDV's Sanne van der Burgh and Leo Stuckardt about the concept and design of the exhibition opening autumn 2021 at Het Nieuwe Instituut. This is followed by an oral history on the Lloyd Hotel as a glimpse of the exhibition's content.
The exhibition MVRDVHNI The Living Archive of a Studio is based on the extensive physical and digital archive of architecture firm MVRDV, and it opens at the same time as the Open Depot of Museum Boijmans van Beuningen, a building by MVRDV. With an open set-up, the depot opts for a new approach to managing, opening up and exhibiting. Inspired by the Open Depot, the MVRDVHNI exhibition shows the MVRDV archive as a living entity that inhabits office spaces, rather than a museum.
As a working environment, the office is the place where ideas and projects move fluidly between present, past and future.
Together with MVRDV, new instruments are being developed for the exhibition to unlock, organise and present the predominantly digital archive in alternative ways. Take a peek in how that is taking form in this edition of TNL! In the Works.
About the organizer
Nieuwe Instituut is het nationale museum voor architectuur, design en digitale cultuur. Nieuwe Instituut houdt zich bezig met de grote ontwikkelingen in de maatschappij, zoals de krapte op de woningmarkt, de energietransitie, de opkomst van kunstmatige intelligentie, mobiliteit of het gebruik van de publieke ruimte. Ontwerpers, waaronder architecten en digitale makers, kunnen aan die ontwikkelingen een belangrijke bijdrage leveren. Nieuwe Instituut toont het werk van ontwerpers, brengt mensen met elkaar in contact, verzamelt, ontwikkelt en deelt kennis.