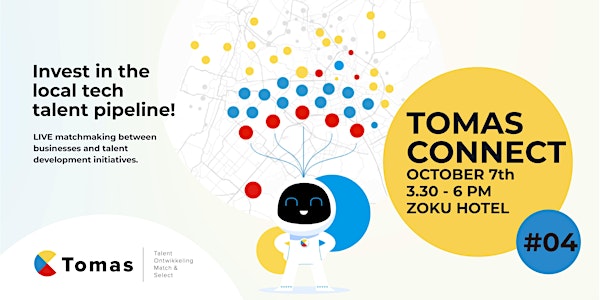 TOMAS CONNECT #4: Invest in the local tech talent pipeline
LIVE matchmaking driven by businesses that want to be involved in the development of tech talent. Join the movement.
When and where
Location
Zoku Amsterdam 105 Weesperstraat 1018 VN Amsterdam Netherlands
About this event
Have you been in a room where all the possible solutions to your recruitment and CSR needs are in one place, tailored to your company?
Whether you are looking to hire juniors (software engineers, data scientists, security specialists etc), diversify your recruitment pipeline, upskill your employees or you are at the stage where you would like to contribute to solving talent and skills shortages, TOMAS will make sure you find your answers.
There are 70 ways in the region of Amsterdam to benefit from the local tech talent ecosystem. Finding the right talent, project or partner is time and resource consuming. TOMAS creates opportunities for businesses to meet the key educators, programs and projects that fuel the ecosystem with (diverse) tech talents.
Within 2.5 hours you as a tech company will get the most recent picture of the local talent development ecosystem, have the opportunity to pitch your recruitment needs to a wide range of (pre-selected) talent development initiatives, engage in the strategic discussion and have 1-on-1 matchmaking with TOMAS initiatives.
Some of the TOMAS initiatives: Codam, DeeploAI, Codaisseur, Winc Academy, Make IT Work, Hack Your Future, Code to Change, School of Applied Science , Quuks and many more on TOMAS .
PROGRAM
15.00 - 15.30 Walk-in
15.30 - 15.40 Introduction: how to dive into the local talent development ecosystem?
15.40 - 16.10 Pitches by Xillio, Dott, Virtuagym, Ultimum, 2solar and TomTom
16.10 - 16.50 Matchmaking 1
16.50 - 17.00 Break
17.00 - 17.15 Guest speaker Sarah Elbadr-Boers, Amsterdam: Diverse & Inclusive (ADI): "Stimulating diversity and inclusion at the workplace"
17.15 - 17.30 Success stories from Hack Your Future alumni
17.30 - 18.00 Matchmaking 2
18.00 - … Drinks & networking
Who is this event for?
HR specialists actively looking for tech talent
Learning and development managers interested in upskilling of employees
Diversity & Inclusion and CSR managers looking to contribute
Company directors (startup/scaleup)
Are you not one of them, but also interested to join this event? Contact us via info@vraaghettomas.nl.
The event will be hosted in English.
TOMAS is an interactive platform and a growing offline community that makes the talent development ecosystem visible and accessible for the triple helix. The project is initiated by the Amsterdam University of Applied Science, the Municipality of Amsterdam, StartupAmsterdam, the Metropolitan Region Amsterdam and the Amsterdam Economic Board.