Transformation Agent certification program by Howspace (January-February)
Event Information
Refund policy
Refunds up to 7 days before event
Eventbrite's fee is nonrefundable.
Learn to apply a human-centric approach to organisational transformation, and become a certified Transformation Agent powered by Howspace.
About this event
About this program
Facilitating different types of transformation (programs, projects, workshops) digitally is the skill of the future. Transformation Agent certification program equips you with the skills, practices and tools you need to drive impactful change in a human-centric way.
What do you get?
You learn what the human-centric approach to transformation looks like, how to support organizational learning in transformation and build a more sustainable collaboration culture. You will also pick up tools and practices for impactful transformation. Once you complete the program, you will receive the Transformation Agent certification.
Who benefits from joining?
The program is for people who are eager to make a difference in transformation-related initiatives and who are looking to learn more about facilitating change digitally. It's especially fit for change agents, business- and HR leaders, facilitators and consultants.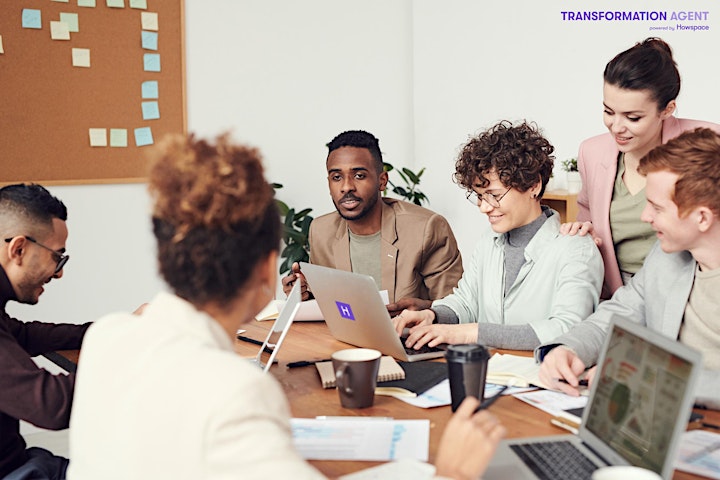 How is the program organised?
The program is conducted fully online using the Howspace learning platform. Expect a lot of group discussions and learning together. Some homework is part of the program.
Schedule
The Transformation Agent certification program consists of five different modules. If you want to get the Transformation Agent certificate, you'll need to complete four of the modules. The first two foundational modules are mandatory, but you can choose the two optional modules based on your interest.
15.30-17.00 CET (Europe)
9.30 AM -11 AM EST (Americas)
Module 1 - Fundamentals for transformation (I) - (January 18)
In the first module, you'll learn the basic Howspace design principles and theories.
Module 2 - Fundamentals for transformation (II) - (February 25)
In the second module, you'll learn how to bring the theory into practice.
Module 3 - Learning design - (February 1)
In this module, you will learn the design principles and theories behind the basic workflows in learning design. You will also get some practical methods to support your own development processes.
Module 4 - Digital work (February 8)
In this module, you'll learn to build digital work practices on Howspace, including meeting structures, co-creative workshops, pulse queries, and monthly get-togethers.
Module 5 - Continuous change (February 15)
In this module you'll learn a new perspective for leading change. We use different real-life examples and get hands-on experience in concepts like virtual town halls, hackathons, and culture journeys. You'll learn to plan and implement an impactful change process.
Each module is a 90 minutes online workshop using Howspace. Group size is limited to 12 participants for maximum interactivity.
English spoken.
In-house training in Dutch is possible. Please mail me for details.
About your trainer
Rik Berbé works (for 20+ years) with leaders, managers and other change-makers who are imagining, designing and transforming organizations and places into sustainable and future-ready networks. He supports in his roles as change maker, workshop facilitator and lecturer.
Rik is internationally respected for creating inspiring learning journeys in which teams think and act together. He successfully applied Howspace for more than 8 years in various hybrid transformation projects in profit- and non-profit organisations globally. Rik is based in The Netherlands. (more about Rik on LinkedIn)
About Howspace
Every day, Howspace is used by thousands of consultants, facilitators, and organizational development professionals who are passionate about driving powerful change. Let us help you to get started with Howspace and begin your journey of transformation.
Date and time
Location
Refund policy
Refunds up to 7 days before event
Eventbrite's fee is nonrefundable.
Organiser of Transformation Agent certification program by Howspace (January-February)
At ChangeLabs - we work with teams on complex challenges. As change guides and workshop facilitators for leaders, managers and other change-makers who are navigating in a fast changing world. We support in transforming organizations and places into sustainable and future-proof eco-systems. Our approach radically accelerates the realization of desired outcomes. We believe in the 'wisdom of crowds' and master 'the art of hosting' bringing people together in ChangeLabs. Creating safe spaces in which teams experience a journey of exploration, innovation and action.