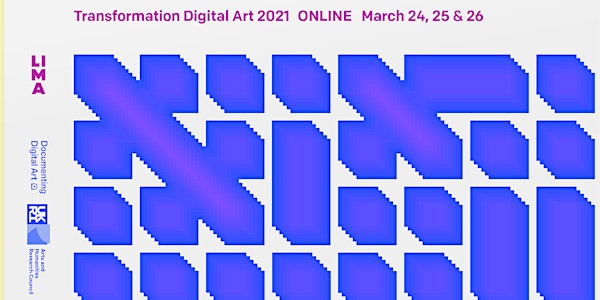 Transformation Digital Art Symposium 2021
Transformation Digital Art 2021 | International symposium on the preservation of software-based art. MARCH 24, 25 & 26, 2021
Refund Policy
Contact the organiser to request a refund.
Eventbrite's fee is nonrefundable.
About this event
Transformation Digital Art symposium is designed as an opportunity to share best practices concerning both artist-led and institutional strategies geared towards the future presentation of born-digital and software-based art. This year the focus of the symposium will be on Documenting Digital Art.
This year's symposium will be presented online.
PROGRAMME
DAY 1: Wednesday, March 24, 17h30 - 21h30 CET
Workshop 1: Workshop Documentation Digital Art with HEK 18h00-19h30 CET
DAY 2: Thursday, March 25, 17h30 - 21h30 CET
Workshop 2: Workshop Documentation Digital Art with Centre Pompidou 18h00-19h30 CET
DAY 3: Friday, March 26, 17h00 - 19h30 CET
Workshop 3: Workshop Documentation Digital Art with SFMoma 18h00-19h30 CET
TICKETS
Tickets for the workshops are €20,- (incl. VAT) per symposium day, per person.
Tickets for the whole day (incl. workshop & evening programme) are €25,- (incl. VAT) per symposium day, per person.
Tickets for the evening programme only (Wednesday & Thursday) are €5,- (incl. VAT) per symposium day, per person.
A Passe-partout ticket for all (Wednesday-Friday) is €50,- (incl. VAT) per person.
CONTRIBUTORS
Annie Abrahams (Artist), Matt Adams (Artist), Andres Bosshard (Artist), Annet Dekker (Assistant Professor Media Studies: Archival and Information Studies, University of Amsterdam), Driessens en Verstappen (Artists), Michelle Feelders (Artist), Francesca Franco (Art Historian, researcher, curator), Rudolf Frieling (Curator of Media Arts SFMoma), Gabriella Giannachi (Professor in Performance and New Media, University of Exeter), Stefan Glowacki (Researcher, LIMA), Mark Hellar (Technology Consultant, Hellar Studio), Sanneke Huisman (Curator and Writer, LIMA), Brigitte Jansen (Het Nieuwe Instituut, Project Manager NADD), Niels Koomen (Regional Archive of Zutphen), Ellen Kotthaus (conservator, HEK), Marcella Lista (Chief Curator of the New Media Collection, Centre Georges Pompidou), Alexandre Michaan (Media Art Conservator), Arthur van Mourik (Collection Manager Centraal Museum), Eoin O'Donohoe (Digital Preservation Analyst, Sound & Vision), Shailoh Phillips (Artist, Researcher, Community Organizer), Claudia Röck (Conservator, HEK), Vivian van Saaze (Associate Professor in Conservation and Museum Studies, Maastricht University), Katrina Sluis (Researcher, Writer and Curator), Mauricio Van Der Maesen de Sombreff (Artist), Helen Varley Jamieson (Artist), Grace Weiss (Assistant Registrar, Media Arts - SFMOMA), Layna White (Director of Collections, SFMOMA), Gaby Wijers (Director, LIMA).
STAY UP TO DATE
Keep an eye on our website, attend the event on Facebook or subscribe to our newsletter to stay up to date as the symposium approaches.
Please note that, with the exception of the workshops, LIMA records and photographs throughout Transformation Digital Art Symposium as documentation for its archive, website and social media.
The Symposium is part of the collaborative research project Documenting Digital Art and is supported by Arts & Humanities Research Council.